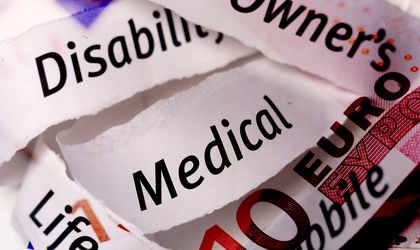 The local insurance industry is still dealing with the difficulties caused by the financial crisis, as well as some homegrown troubles. While it has made significant steps towards maturity, it is still an emerging market. Specialists told Business Review about the current state of the sector and shared their predictions of what's next.
[restrict]
Anda Sebesi
Romanian insurers are currently reeling after a series of blows to the industry's reputation. Despite having made significant steps toward maturity in the past few years, the local insurance market has made various false moves that have made it look unstable and uncertain. In mid May, prosecutors and police conducted 49 searches at Omniasig headquarters and branches in Bucharest and nationwide, as part of a criminal investigation into abusive professional practices and forgery. According to Mediafax, the general manager of the company and 40 other Omniasig managers are prime suspects in the forging of insurance policies, a crime that deprived the state coffers of about RON several millions.
Misu Negritoiu, president of the Financial Supervisory Authority (FSA), recently assured both the public and Omniasig's customers that the situation was under control. He added that Omniasig was well capitalized.
"The company's shareholders have injected over EUR 100 million in the past two years and now it is doing well in terms of solvability and liquidity. It also has enough technical reserves," noted Negritoiu.
In addition, Omniasig representatives told the media that all of its issued policies were safe and valid, and that the company maintained its commitment to respect all of its contractual obligations to its customers, regardless of the results of the investigation. Omniasig is part of Vienna Insurance Group (Austria), which owns a stake of over 99 percent in the insurer. The Austrian group also owns BCR Asigurari de Viata and Asirom.
The situation at Astra has also caused concern on the local insurance market. In mid May the company's shareholders approved a plan to gradually increase the company's share capital by RON 490 million. The first tranche stands at about RON 70 million. The measure was taken in order to relaunch Astra's activity and improve its prudential indicators.
"The success of the recovery plan proposed by us and approved by the FSA is significantly dependent on the support of Astra shareholders. Yet we are still waiting for the existing shareholders to support the plan as they said they intended to do during the AGEA debates," said representatives of KPMG Advisory, the special administrator of the insurer. Astra is controlled indirectly by businessman Dan Adamescu through Nova Group Investments Romania, which owns 72.68 percent of its shares, and Epsilon Estate Provider with 27.02 percent.
But amid the turmoil besetting the local insurance scene, there is some good news. The Romanian Post is a new entry on the market through the launch of Posta Broker Asigurare. The new entity is totally controlled by the National Romanian Post Company and will soon apply for authorization to operate on the insurance brokerage market.
"The company will present the documentation to the FSA and brokerage activity is expected to start immediately," Dan Dumitrescu, Romanian Post spokesperson, told Mediafax.
Car-dominated market stalls
According to preliminary data published by the FSA, gross written premiums (general and life insurance) posted an increase of less than 1 percent last year, while written premiums for general insurance increased by about 3 percent. Market data put the total volume of gross written premiums at RON 8.29 billion (EUR 1.88 billion) last year. This marked a gain of just 0.42 percent on 2012.
"As for the insurance market's opportunity to grow and develop, there is potential but I don't think it will happen in 2014. Although some insurance categories will post an increase, I expect overall stagnation for the market," says Anca Babaneata, CEO at Gothaer Asigurari Reasigurari.
"If we look strictly at policies, the Romanian market is dominated by car insurance. But both Gothaer and other insurers on the market want to see development on other non-car business lines too. For example, 30 percent of our portfolio is CASCO and we don't want that figure to rise. Instead, we intend to consolidate our position and develop segments like property, agro, travel, warranties, products for SMEs and specialized industries like renewables."
Macroeconomic indicators have a significant influence on the insurance market, but their effects start to be visible after 9-12 months. Correlation with other markets, like the auto sector, is much more obvious.
"The decline of the car market in 2013 generated a significant drop in CASCO insurance. In such a context, Groupama managed to maintain its volume of written premiums on this business line and become the second biggest CASCO insurer," says Calin Matei, deputy general manager at Groupama Asigurari.
Life insurance market struggles to survive
2013 was another tough year for the life insurance market as a result of the poor economic growth, limited opportunities for individuals to save and the various strategies adopted by companies active in the industry. According to FSA data, the Romanian life insurance market dropped by 8.27 percent on 2012, to reach total gross written premiums of RON 1.65 billion, while in the first two months of 2014 they decreased by 6.96 percent on the same period of 2013, to RON 243.45 million. The fall is mainly due to the reporting adjustments made by a company on the local life insurance scene.
"The life insurance market hasn't managed to improve its positioning even though interest rates are low and life insurance policies have become more competitive. From our perspective this is contradictory," say representatives of Allianz Tiriac. They add that the company will remain proactive on this market segment and are convinced that life insurance products will be increasingly considered profitable alternatives that combine savings with financial protection.
"It is possible that deductibility will boost the life insurance segment," they add.
Marius Popescu, general manager at ING Asigurari de Viata, says that the poorly funded public sector has made Romanians think more carefully about their financial protection needs and the benefits that a life insurance policy can offer.
"This is a qualitative evolution that will consolidate as incomes increase again. It will have a positive influence on the life insurance industry," says Popescu. As for the main trends, the GM says that insurers are focused on developing the market and increasing the benefits for their customers.
"Eleven players launched fifteen life insurance products last year. This confirms that companies are seeking to offer products that are adapted to the current needs of the public," adds the ING general manager. According to him, the first two months of 2014 confirm that customers prefer traditional products that are affordable and simple.
"We estimate an increase of below 5 percent for the life insurance market in 2014, excluding the adjustments of gross written premiums made by a local life insurance company. But it has significant potential to grow on the long term, considering the size of population, poor penetration rate of life insurance policies and the great need for protection. Last but not least, the deterioration of demographic indicators and difficulties that the Romanian state faces in providing a decent level of social protection have made people aware of the importance of saving through the private system in order to supplement their retirement income," says Popescu.
Health insurance looking robust
One visible trend on the local insurance market in 2013 was the slight increase in RCA prices.
"From our perspective, if this trend continues it will show that things are moving towards realistic and sustainable prices and a better market situation. Clarifying the legal framework for compulsory home insurance is another significant step for the market," say Allianz Tiriac representatives. Matei of Groupama Asigurari agrees that the local sector is on its way to consolidation and maturity. Although RCA and CASCO make up a significant weight in insurers' portfolios, top companies are paying more attention to other business lines.
"The majority of insurers try to find a balance between their market share and profitability. As for us, we chose last year to cut significantly our exposure on the RCA segment and concentrate our efforts and attention on new customer segments and the quality of the services attached to our products," adds Matei.
As for the most dynamic segment of the market, specialists say that health insurance products were riding a wave last year.
"At Allianz Tiriac, group health insurance posted growth in 2013. It is encouraging and shows increased interest from employers in such products, which are offered as a benefit in salary packages. This could be supported and consolidated by increasing the sales of such products to individuals too," they add.
This year the company launched SanaPro, a health insurance for individuals. Elsewhere, last year Groupama launched, in partnership with Regina Maria, Integrated Medical Insurance, a product that combines the benefits of medical insurance with those of a medical subscription.
"There are over 30,000 insured individuals one year since the launch," adds Matei of Groupama.
A long march to maturity
Romania is without doubt still an emerging market, and so too is the local insurance sector. The insurance penetration rate is still very low, far below the figures in more developed countries in the region.A mature market needs stability, and requires a solid, coherent and predictable legal-institutional framework that enables companies to develop long-term strategies and forecasts. Another factor is the financial stability of market players and their likelihood of defaulting on the obligations assumed in their insurance contracts.
"Last but not least, profitability is an indicator of maturity. And the Romanian insurance market has posted losses for eight years now," say representatives of Allianz Tiriac.
Insurance across CEE
According to a study conducted by Generali PPF Holding (GPH) in 2013, Central and Eastern Europe is characterized by large variations in house insurance. The average annual house insurance premium ranges from EUR 30 in Bulgaria to over EUR 167 in Slovenia. In addition, three quarters of Hungarians have house insurance, compared to 7 percent of Bulgarians. In Romania the figure stands at 43 percent. The study also found that Slovenians typically insure their house for over EUR 150,000, compared to EUR 32,000 in Croatia and EUR 23,500 in Bulgaria. The study used data from the home insurance portfolios of Generali companies in nine Central and Eastern European countries.
Top 10 insurance companies in Romania in 2013 (total market)
Company GRP (RON million)
1. Astra Asigurari (e) 1,070
2. Allianz Tiriac 919
3. Omniasig VIG 881
4. Groupama Asigurari 727
5. Uniqa Asigurari 570
6. ING Asigurari de Viata 560
7. Asirom VIG 544
8. Euroins Romania 513
9. Carpatica Asig 482
10. Generali Romania 439
Source: www.insuranceprofile.ro
(e) – estimate
Top 10 life insurance companies in 2013
Company GRP (RON million)
1. ING Asigurari de Viata 560
2. Metropolitan Life (e) 255
3. BCR Asigurari de Viata VIG (e) 221
4. Allianz Tiriac 95
5. Asirom VIG 89
6. Generali Romania 84
7. BRD Asigurari de Viata 70
8. Grawe Romania 50
9. Eurolife ERB Asigurari de Viata 44
10. Groupama Asigurari 42
Source: www.insuranceprofile.ro
(e) – estimate
[/restrict]