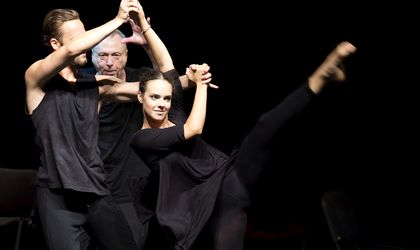 The anniversary performance staged by the Romanian choreographer Gigi Caciuleanu was first staged during the Enescu Festival in September 2015, when the artist offered an unique moment, dancing with his teacher, Miriam Raducanu, who is 90 years old. The artist started 50 years ago as a dancer on the stage of the Small Theater under the choreography of Miriam Raducanu.
Gigi Caciuleanu celebrates half a century of stage performances, returning to the Small Theatre as an interpreter with the new choreographic creation One Minute of Dance or UF!!!.
The show will leave out one minute of dance before the final part which the choreographer will reinvent at every performance, before the audience. The protagonists, the composer and two dancers, will have to rise to the challenge and adapt to the "state of emergency" in the moment. They will need to memorize the choreography and music, both invented on the spot, and integrate and interpret to the best of their ability. The music comes from the "orchestra man" Paul Ilea (Sensor/Kult Studio), whom the choreographer asked to work from the themes of Mozart.
The performance will take place on  February 26-27, at 20.00, at the Small Theater. Tickets can be found in Eventim network.
Oana Vasiliu