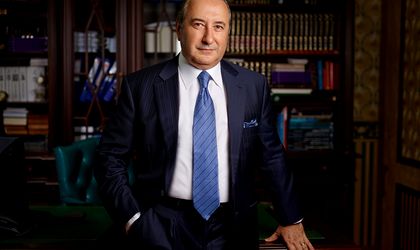 Next year should bring consolidation for real estate developer Genesis Development, which owns the 150,000 sqm NovoPark and West Gate office projects in Bucharest, said Liviu Tudor (in picture), the company's president, last week. The announcement comes after the developer completed investments of EUR 40 million in four office buildings in the NovoPark project in Bucharest's Pipera neighborhood in 2013.
While investments in upgrading the existing office buildings will continue, Tudor, who is the largest Romanian office space owner, says he has no plans to start a new one. And this is despite the fact that both NovoPark and West Gate have room for expansion. "We would consider developing a new office building only if one of our existing tenants wanted considerably more space. Otherwise, the context doesn't leave room for much speculative risk," said Tudor last week, during a press conference.
He added that the company's rule had always been to start a project after pre-leasing 50 percent of the space. "Now, in the present climate, the rule has become to pre-lease at leased 80-90 percent of the building. Others do it without having a single tenant. It's their risk," said the businessman.
Bucharest already has a considerable stock of office space and banks remain reluctant to finance real estate projects, he added. "It is not a given that we have to continuously keep building. It is not a given that there should always be new residential or office space. Too much was built in too short a period of time (…). Banks are now waiting for supply and demand to reach a balance," said Tudor.
Should macroeconomic indicators improve, investments will pick up, but there will be no spectacular growth over the next eight to ten years, predicts the businessman, who remains optimist regarding the sector's growth potential. "All the signs point up for building in Romania. We are an El Dorado for investors and they will come when they considerate it opportune," he concluded.
In the meantime, the developer announced last week that HP's Romanian subsidiary has renewed its lease on the 26,000 sqm it occupies in NovoPark for a ten-year period. HP has been a tenant in NovoPark for the past eight years. This makes it the longest leasing contract on the local office market, according to company data.
NovoPark comprises seven buildings with a total leasable are of around 75,000 sqm. Occupancy is above 98 percent, according to company data. In addition to HP, the other tenants in the complex are Procter & Gamble, Mondelez Romania, Garanti Romania, Ringier, Sodexo, Infineon Technologies, Yokagawa, Luxoft and UniCredit Business Integrated Solutions.
Genesis Development, which in addition to the Novo Park and West Gate office projects also owns the West Gate Studios residential project, estimates it will report EUR 32 million in revenues this year, in line with 2012 results, said Tudor.
Simona Bazavan