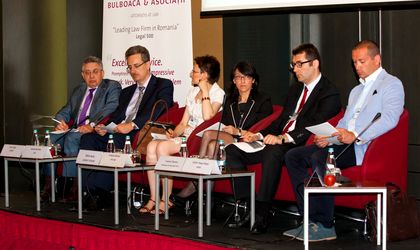 Energy specialists gauged the potential impact of Black Sea gas on the domestic market and outlined the future of the renewable sector at the fourth Focus on Energy event, organized last week by Business Review.
By Ovidiu Posirca
The Dobrogea region in south-eastern Romania has become the focal point for energy investments in recent years, largely thanks to its renewable potential.
Massive wind capacities have been erected following investments of more than EUR 3.5 billion, driven by foreign utilities operational locally.
This region has been dubbed by players as the "Eldorado of wind", and shale gas resources could also be harnessed here, companies believe. Just off the coast, OMV Petrom and ExxonMobil struck gas that could increase Romania's energy might.
Renewable meets the axe
Another 400MW of wind power capacities is expected to become operational this year, but uncertainty surrounding the reduction of the support scheme has made both bankers and renewable investors wary, said players.
"Shareholders and banks are cautious over granting loans for various (energy) investments. Most of the investments have been made with large support from shareholders," said Adrian Borotea, corporate affairs director at CEZ.
The Czech utility operates the largest onshore wind farm of 600MW in the Dobrogea region, following an investment of more than EUR 1 billion.
Loredana Van de Waart, partner at Gruia Dufaut law office, commented that renewable projects have been frozen by the ongoing discussions over cutting the number of green certificates. She advised developers to pay close attention to legal aspects, such as land ownership and technical grid connection permits, as they may delay the trading of a project.
Cosmin Stavaru, partner at law firm Bulboaca & Asociatii, said: "The new regulation for renewable energy blows up the strategic fundamentals of the sector."
According to Stavaru, in most of the EU countries that have axed the incentives, operational projects were not affected. If this initiative targets even operational projects, something the Ministry of Energy aims to do, it may prompt court cases against the Romanian State.
He cited the successful challenging in court of new grid charges for renewable assets in Bulgaria as a pertinent example.
Zoltan Nagy-Bege, member of the regulatory board at ANRE, said that the authorities have tabled two initiatives to reduce the support scheme.
Under the ANRE program, new installations in solar, wind and small hydro would receive fewer certificates from this year as they are overcompensated and have a higher Internal Return Rate. In parallel, the Ministry of Economy is debating an emergency ordinance that aims to suspend the renewable support scheme through to 2017, impacting both ongoing projects and those starting operations by year end. Some of the green certificates will be suspended and producers will recover them in four years.
The Ministry of Energy argues that reducing renewable incentives protects household consumers and helps large industrial consumers keep energy costs under control.
Romania has seen an influx of Italian companies seeking to invest in the local renewable market, since the support scheme ended last year in Italy, said Adrian Dimache, general manager of the Italian Chamber of Commerce for Romania.
"We see the suspension or total cutting of green certificates as dangerous," said Dimache. He added that around 400MW of photo-voltaic has received an establishment permit and the same amount has applied for such permitting. He warned that many of these businesses run the risk of going insolvent as a result of the cuts.
The general manager suggested that increasing the number of green certificates and lowering the maximum value of one certificate to EUR 35 would serve as a viable redesign of the current scheme.
He commented that investors are currently calling for some cadastral regulation for installing solar panels on top of buildings, in a move to make such projects bankable.
Under the current proposals, the support for biomass plants will remain unchanged, being granted two or three certificates.
Ilias Papageorgiadis, president of the Romanian Association of Biomass and Biogas (ARBIO), says growth in this sector is expected from September or starting next year.
"Romania has a lot to gain if it has 350 to 500 small projects below 0.5MW, which banks find easier to finance and create jobs in each county," said the ARBIO president.
Ion Lungu, president of the Association of Electricity Suppliers in Romania (AFEER), commented that Romania's good production mix puts it in an "excellent position" that creates export opportunities.
The renewable boom has created demand for specialized financial services. Banks started to offer tailored made project financing and insurers have followed suit.
Bogdan Orescovici, general director at Easy Insurance, presented an insurance and finance solution for solar producers that covers the risks in all the stages of the project. The Dutch-based insurer has a portfolio of 1.5GW of solar in 21 countries.
Georgeta Diaconu, director at KPMG Environmental Services, outlined the main changes in the transition to the third phase of the Emission Trading System.
Following the transition, the price of carbon credits (AAUs) has dropped below EUR 2. The AAU surplus reached 955 million in 2012 and continues to grow, while the European Commission is looking at various initiatives to reduce this figure.
The trading suspension imposed on Romania for close to a year led to a spike in the number of AAUs, which exceeded 300 million last year, according to Diaconu.
Dealing with a gas fortune
Romania may start to harbor hopes of energy independence, following the discovery of a large deposit of natural gas offshore.
OMV Petrom said the first deposit it explored may contain between 42 and 84 billion cubic meters of gas. To put this into context, Romania's annual consumption stands at around 15 billion cubic meters.
Turning offshore gas into a game changer for the industry will come at a price that allows companies to invest in building the transport infrastructure.
"We expect the Black Sea gas to be more expensive than domestic gas and cheaper than imported gas," said Valeriu Binig, director, financial advisory services, energy & resources and corporate finance, at the professional services firm Deloitte Romania.
According to specialists, the price of domestic gas stands at USD 160 for 1,000 cubic meters while Russian imports cost USD 400. He added that neighboring countries have started "to woo us" but selling them gas requires linking infrastructure with Western Europe.
"Dobrogea doesn't have the infrastructure to transport gas from the Black Sea," said Binig.
Investing in smart grids and efficiency
The smart grid has been coined by specialists as the solution to increase the efficiency of energy consumption with the help of IT solutions.
Calin Vilt, counselor at the Romanian National Committee for the World Energy Council, described the US experience in smart grids. Under a pilot project, companies were granted a total of EUR 3 billion to develop smart grid solutions and the economic gain was EUR 7 billion.
"Smart grids will bring a new business model in the energy field by allowing the consumer to the table," said Vilt. In Romania, the first stage in building these grids is the deployment of smart meters for consumers.
Vlad Mihalache, M2M business lead at Vodafone Romania, said the telecom operator is currently monitoring 100,000 points from a distance for electricity distributors.
The company also provides solutions for critical gas and water infrastructure. He added that M2M (machine 2 machine) solutions can generate new business models and attract new customers.
Nagy-Bege said Romania has to transpose the energy efficiency directive by June 2014, which requires investments. The buildings housing public institutions will need to start a program to improve their footprint. Meanwhile, energy companies will have to invest in energy efficiency for their own consumers, as they have to reduce yearly consumption by 1 percent.
"This measure is hard to swallow for energy companies that aim to increase consumption," he added.
Romania recently saw a historic low in electricity consumption of around 3,700MW during the Easter holiday. Specialists say this was primarily due to the economic crisis, which hampered industrial demand. The country was able to export electricity to Serbia and Bulgaria and maintain the security of the power system.
As most of the power generating assets are in state hands, the government has attempted to reform them with the support of the IMF. However, breaking the close knit political relationships within these companies remains a daunting task for government officials.
Otilia Nutu, energy and infrastructure analyst at Expert Forum, a Romanian think tank, said that all companies in the energy sector relied on the IMF to solve their problems. She described the appointment of private managers in state-controlled companies as a "failure", with a few exceptions.
Pictures of the event can be seen here.