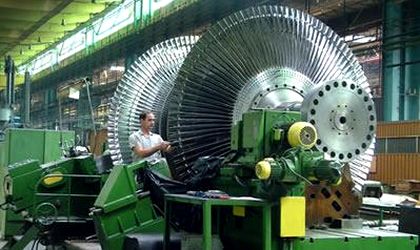 Turbine and generator builder General Turbo from Bucharst will cut down the number of employees from 650 to 450, given the "dramatic drop" in orders on the local and foreign markets, according to information sent to Mediafax.
Nuclearelectrica, power plants in Rovinari, Craiova, Turceni, General Electrica, Siemens, E.ON, Ansaldo and Voestalpine are among the company's biggest clients.
General Turbo buils steam turbines for the classic and nuclear powerplants.
In 2013, the company posted a turnover of RON 112.5 million (EUR 25. million), down 32 percent compared to the level of RON 165 million achieved in 2012. General Turbo ended 2013 with loses or RON 3.9 million, down from a net profit of RON 5.5 million in 2012.