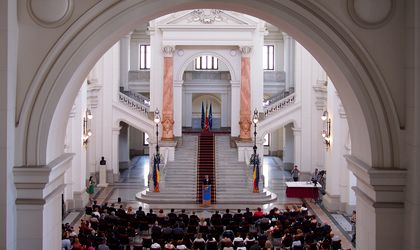 Tiberiu Nitu, General Prosecutor of Romania, announced on Thursday that inquiries have been launched into the organization of the presidential elections abroad, after receiving numerous notifications on the matter.
He explained at the headquarters of the Superior Council of Magistracy (CSM – in picture), that a criminal investigation was initiated into the criminal offense of preventing citizens from exercising their right to vote, laid down in Article 385 of the Criminal Code, notes Agerpres newswire.
"There have been many notifications filed by different people. (…) An inquiry has been already launched, into the criminal offence of preventing people from exercising their right to vote, as laid down in Article 385 of the Criminal Code. The notifications are against the ministers of those who were in charge of organizing the elections, according to the petitioners," said Nitu, quoted by Agerpres newswire.
Most of the notifications were submitted via email by individuals, from the Romanians living abroad.
On November 16, thousands  of protesters gathered in several Romanian cities on Saturday evening condemning the conditions of the November 2 first round of the presidential election for voters abroad. They used social media to claim solidarity with the Romanian emigrants from Europe who couldn't vote in normal conditions the previous week and chanted anti-governmental slogans. Thousands of Romanians have protested in Cluj, Timisoara, Iași, Constanta, Ramnicu Valcea, Sibiu and Bucharest, while hundreds have made their voices heard in London, Dublin and Paris.
The elected president, Klaus Iohannis, said in a press conference that all the personnel involved in the voting process from abroad, including ambassadors, must give explanations regarding the voting conditions offered for these elections to the president in charge, Traian Basescu, who started an investigation on the matter.
Oana Vasiliu