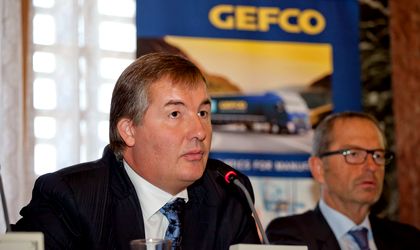 The Romanian subsidiary of logistics operator Gefco estimates it will increase its turnover to about EUR 50 million this year from approximately EUR 47.5 million in 2013, said Christophe de Korver, the GM of Gefco Romania, this Tuesday, during a press conference.
The increase will come from the automotive sector which generates about 70 percent of the company's turnover, Renault and Ford being the logistic operator's main clients in Romania. This year Gefco Romania has signed a contract with Renault for the supply of spare parts whereas so far it only transported vehicles, explained the GM, who recently was also appointed head of warehousing and reusable packaging activities in Central Europe, Balkans and Middle East region.
Overall, the market had a positive evolution in the first part of the year but business slowed down during the summer months and companies are putting investment plans on hold until after the elections, added de Korver. Moreover, several smaller transport operators could to go bankrupt by the end of the year, he added.
Gefco was set up 65 years ago by Peugeot but the company was taken over by Russian state railway company RZD in 2012. Under the new ownership – RZD controls 75 percent of its shares – the company has been given green light for acquisition and is presently analyzing the possibility of acquiring a freight-forwarding company in the port of Constanta. This could happen in the first part of next year, said de Korver.
The Gefco Group has 37 subsidiaries and it reported a turnover of EUR 2.1 billion in the first half of 2014, up 6.9 percent compared to the same period in 2013.
Read more in BR's next print edition
Simona Bazavan