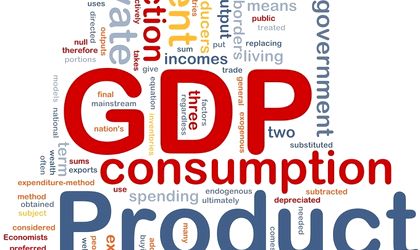 The Gross Domestic Product (GDP) grew by 4.3 percent compared to the same period last year, evolution supported by trade, car service, transportation, hotels, restaurants and industry, informs Mediafax.
In Q1 GDP was estimated at nearly RON 139 billion (EUR 31 billion) current prices, in real terms, as gross series.
According to seasonally adjusted data, GDP amounted to RON 174 billion (EUR 39 billion) current prices, a 1.6 percent increase compared to the last quarter of 2014, in real terms, and by 4.2 percent against the first three months of the previous year, according to the National Statistics Institute (INS).
Wholesale and retail, car and motorcycle service, transportation and storage, hotels and restaurants contributed by 1 percent to the economic growth in the first quarter, this sector having a 17.8 percent share the GDP production, and its volume of activity increased by 5.8 percent.
At the same time, the industry, with a share of 21.1 percent (the volume of activity increased by 4.2 percent), had a 0.9 percent contribution to the GDP growth, as well as information and communications, with a 7 percent share, but with a 13.2 percent advance of the volume of activity.
Net taxes on product, with a share of 14.2 percent to the GDP production and whose volume of activity increased by 3.5 percent, had a share of 0.4 percent.
From the point of view of GDP use, final consumption expenditure of population's households had a 3.3 percent contributed to the economic growth, with a 4.9 percent appreciation of volume. Also, the gross fixed capital formation positive had 1.2 percent contribution, amid the 8 percent increase in volume.
The seasonally adjusted series of the quarterly GDP has not changed, the estimates' revision for the first quarter compared to the "signal" variant being insignificant.
The budget for the current year was based taking into account a 2.5 percent GDP growth.
Staff