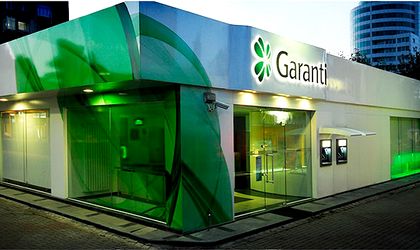 Garanti Bank registered a RON 55 million (EUR 12.47 million) net profit at the end of June, the results in the second quarter playing a significant role in this respect, show the company's latest data. As such, the bank's net profit reached RON 33.3 million (EUR 7.55 million) in Q2, a 53.5 percent increase quarter-on-quarter.
During the first six months, Garanti Bank's overall loan volume reached RON 6.27 billion (EUR 1.42 billion), representing a 27.8 percent increase year-on-year. Moreover, customer deposits registered a 43 percent growth in volume year-on-year, to RON 4.53 billion (EUR 1.03 billion).
Garanti Bank Romania is part of the financial banking group Garanti Romania, which brings together Garanti Leasing (the brand under which the company Motoractive IFN SA operates) and Garanti Consumer Finance (the brand under which Ralfi IFN operates).
The group's non-banking institutions also registered net profit, at the end of the first semester: Garanti Consumer Finance RON 14.2 million and Garanti Leasing RON 5.7 million.
"The first half of the year was very good for Garanti Group Romania. Lending and customer deposits are registering remarkable evolutions. The second quarter has played an important role in our overall results and we expect the rest of the year to be exponentially more dynamic," stated Ufuk Tandogan, CEO of Garanti Group Romania.
At group level, the company registered RON 75 million (EUR 17 million) net profit in the first semester. Furthermore, the group's consolidated net revenues amounted to RON 287.3 million in the first six months, while its total assets reached RON 9.76 billion (a 10 percent increase).
Garanti Group Romania is owned by Turkiye Garanti Bankasi AS (TGB), a private bank in Turkey. In the first semester of 2015, TGB posted a consolidated net income of TL 2.1 billion (EUR 697.93 million). Its total consolidated assets size reached TL 265.2 billion (EUR 89.64 million), while its contribution to the economy through cash and non-cash lending totalled TL 203.3 billion (EUR 68.71 billion). TGB serves more than 10 million customers in corporate, commercial, SME, and consumer segments offering fully integrated financial services.
Garanti Bank is present in Romania since 1998, reaching an extended network of 84 branches and over 300 intelligent ATMs that can be used by anyone, not just bank customers, for transactions with or without cards.
At the end of July this year, the international rating agency Fitch Ratings upgraded the ratings of Garanti Bank. Its long term IDR was upgraded to 'BBB-', from 'BB+', its short term IDR to 'F3' from 'B', and its support rating to '2', from '3'.
Natalia Martian