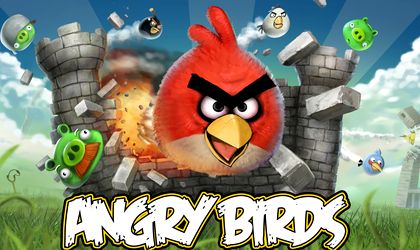 Mobile games are the fastest growing category in the global gaming industry, fuelled by the explosion of mobile devices and the ever increasing need for mobility. A quick game on the phone in between subway stations is also an entertaining pastime for many Romanians. Pundits offer BR their take on this dynamic market.
By  Otilia Haraga
The global gaming market is set to reach USD 70.4 billion this year, according to market researcher Newzoo, up from USD 66.3 billion last year.
"The market of games on mobile phones and tablets is already bigger than the PC game market, and within three years it will approach 85 percent of the market of console games, which is still generating the highest revenues," entrepreneur Dan Virtopeanu, founder of Grapes Games, which launched the first multiplayer game via SMS, tells BR, quoting the study.
The smartphones/tablets category will be the fastest growing one, predicted to soar by 35 percent to USD 12.3 billion.
However, in Europe growth will be less buoyant than on other continents such as Asia-Pacific and Latin America.
Out of the estimated USD 70.4 billion in total, mobile games will have a market share of 12.1 percent, tablet games will have reached 5.3 percent while console games and games on a PC/Mac will have lost market share by the end of this year.
"Console games will continue to generate most revenues over the next three years, according to estimations. From the point of view of adoption, it is already certain there are more players on mobile phones and tablets than on consoles or desktops, not only because of the larger number of visitors but also the high number of games available free of charge," comments Virtopeanu.
In Romania, the game developer market is split between foreign developers such as EA Mobile, Gameloft and King.com, which are putting together mobile games from and for abroad, and Romanian companies such as FunLabs, Revo Games and a few startups, Diana Dragomir, business developer and cofounder of Mind Treat Studios, tells BR. The startup developed Breinst, a small gaming platform for iPhone intended as a brain trainer.
King.com announced in June that it will be doubling its Romanian team from 36 people at present to nearly 70 by the end of the current year. They will be testing existing and future titles.
When developing a game for a mobile platform, developers should take into consideration certain details. "Playing time is very short and the game is more prone to interruption – for instance, when the subway gets to its destination, the game ends – and competition is fierce, since there are many quality games that are available free of charge," Dragomir tells BR.
Romanian developers may be at a disadvantage when competing on a global market, because of the difference in resources that are available to their competitors.
"Local players are competing with global ones who benefit from other resources: access to technology, communication budgets, experienced teams, professional game designers. Anyone can make a game but unfortunately the difference between a game developed by a professional designer and one by an enthusiastic team of programmers is visible," says Virtopeanu. In spite of all this, he advises Romanian developers not to miss out on the chances that globalization can offer them.
"Developing a game for the mobile phone that exclusively targets Romania means missing the opportunity to enter the global market. No local developer of games for the mobile phone should limit him- or herself only to Romania. Romania can be a test-start market but the game should target players all over the globe," he says.
He adds that targeting a game at a local audience is no guarantee of its success. "The market is extremely competitive, especially since there are enough smartphone users in Romania who can play without problem games that are not in Romanian, so localizing a game is not sufficient to ensure success here," he warns.
Gabriel Ionita, products & services development senior manager at Cosmote Romania, tells BR that the most sought after options are car races and action games. "Romanians are great fans of fast cars and action movies, so this comes as no surprise," he adds.
On a monthly basis, thousands of users download mobile games from Cosmote's web'n'walk portal, with the average download being two games per user. Smartphones with Android and iOS are used by 25 percent of the people who download games from web'n'walk, while the rest use feature phones.
At the moment, all mobile operators in Romania have mobile games in their range. While the appetite is growing, it is precisely the abundance of free of charge mobile games that has led to pressure on prices.
Virtopeanu says eight years ago, Romanians used to pay EUR 3 for a mobile phone game while now the range of free games is extensive and the number of payers has shrunk.
"Hardcore fans do not have a problem with paying more than EUR 3, while occasional gamers buy a game that costs below EUR 1 once in a while," he says.
Dragomir agrees. "If we listen to our own sources, meaning game launches of friends, we can say that if you sell 15 games for USD 1 you enter the top 10 games in Romania that week. So our guess is the Romanian consumer is not willing to pay too much," she says.
The latest statistics indicate that there are approximately 5 million smartphones in use in Romania at the moment and sales are set to grow as the price of smartphones goes down. Like many other services or applications, mobile games grow along with the number of smartphones in use.
"The main advantage of a mobile game is the immediate availability no matter the location and context (but tablets cannot be included in this category). Secondly, the high rate of growth of smartphone users. There are many people who, instead of buying a console or desktop, have purchased a smartphone", says Virtopeanu.
otilia.haraga@business-review.ro