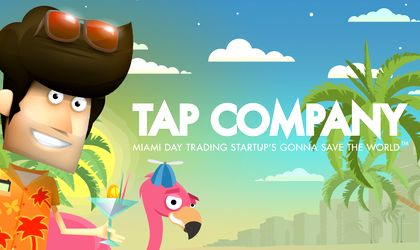 After the success achieved with numerous strategy and adventure games, with amazing design, such as "Merchants of Space" and "Adventures of Poco Eco: The Lost Sounds", Possible Games comes back with one of the most intriguing and interesting mobile games of the year.
"Tap Company" is a game with a very detailed and strong story, that is relying on the player's humour, curiosity and his entrepreneurial spirit. Therefore, Tap Company challenges every player to become the owner of a small Miami startup and after he proves that he knows how to run the business and make money, in a short period of time will be able to open his own casino. The interesting, yet mysterious and hard road is just as the beginning. There is no time for chilling and counting the money on a beautiful, remote isle. Along with the necessary skills that are required while being a manager and the problems that rise with this status, the player has to face a series of unexpected, exciting and "paranormal" moments that will surprise him and make him be conquered by the atmosphere of the game. What does the player need? Some really fast finger movements!
"Our goal is to create and produce new mobile and tablet games with an outstanding design and a beautiful story behind it. We want to easily differentiate ourselves form the competition, with courage and creativity. The Tap Company game makes no exception from that rule and we are looking forward to see how we will be greeted by the local market," has said Stefan Iarca, Country Manager Possible Romania.
"Tap Company" is available for free download in GooglePlay, and will be followed by the AppStore version in the last half of November.
More info on the game it can be acquired on the dedicated website and the social media accounts: Facebook, Twitter and Instagram.
Possible Games, part of Possible CEE , is famous for games and apps such as : "Small & Furious", "The End App", "Die Hard Game", Totoya Creatures.
Possible CEE is a full-service digital agency with 18 years of experience and a large portofolio of regional clients, such as: Tesco, Carrefour, Air France KLM, Sanofi – Aventis, MOL, Accenture Services, 1Hotels, Delaco, P&G, Coca – Cola, Telenor, Raiffeisen Bank, ATV, Minimax, Generali, AXA, etc. The agency offers strategy, media, communication & design, creation, technology and mobile advertising services. Moreover, Possible is a force to be recognized at an international level, by being a network of digital agencies with 22 offices in USA, Europe, Middle East, Africa and Asia and more than 1000 employees at a global level. Possible is also the biggest startups part of the WPP. The impressive international client list includes names such as: AT&T, Barclay's, Comcast, Dell, P&G, Nokia, Microsoft, Mazda, Starwood, World Wildlife Fund, Absolut Vodka, Michael Kors, Canon, Nike, Audi, Sony Playstation, Pringles, etc.
In Europe, Possible has offices in: UK, Poland, Hungary, Romania and Rusia.
Romanita Oprea