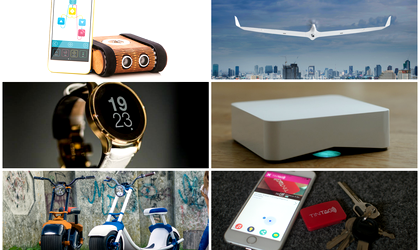 A medical exoskeleton for people with disabilities, an interactive toy robot, a device that protects home networks and a smart watch with an always on screen and 30 days battery life are among the products that will be showcased this November at How to Web Conference 2015, organizers announce.
The event is expected to bring together over 1,000 tech professionals from all around the CEE, coming to meet important actors on the global tech scene, check out innovative IoT (Internet of Things) products and discover some of the most promising startups in the region. Early Bird tickets are available until Tuesday, November 17, on the conference website.
Among the themes discussed on the two stages of the conference there are creating and launching innovative tech products at global scale, product growth and organizing the product team, product metrics, growth hacking, digital marketing, content marketing or building communities around your product. The final agenda of the event is now available online on the conference website.
The conference brings together startup founders, investors, accelerators, product managers, developers, online marketers & community leaders from all around the CEE. More details about this year's event and the updated speakers list are available online on the conference website.
The expo area will host IoT products and machines that improve people's lives, including:
– Axosuits, affordable and easy-to-use exoskeleton offering people with walking disabilities the accessibility they need;
– Scooterson, world's first intelligent electric kick scooter that uses a unique combination of cloud, smartphone technology, and big data analysis to enhance the riders' experience and maximize both energy efficiency and safety;
– Bitdefender Box, the devices that protects your home network and all the devices connected to it from malware, including smart TVs, home appliances or gaming consoles;
– Vector Watch, the smart watch with an always on screen and a 30-day battery life, the only one of its kind compatible with iOS, Android and Windows Phone;
– Codie, the interactive toy robot that introduces kids to the building bricks of technology, helping them familiarize with logical thinking and problem solving, all without any prior knowledge of programming;
– Hirrus mini-UAV, the surveillance drone that provides relevant, fast and insightful data, thus increasing productivity and reducing costs by improving the quality of life;
– Gravity Lifter, multi-awarded device that uses an electromagnetic field to produce a levitation effect to any product / object having a maximum weight of 3kg;
– DreamOC, glass pyramid that creates holographic images by using a light fascicle and a 3D projection screen;
– Lighty, the world's first smart mobile projector with robotic capabilities: powerful pico projector, panoramic movement, voice control and wireless connectivity;
– TinTag, rechargeable tracking device that helps user find their lost objects faster;
– Symmer 3D, delta based multifunctional platform for 3D printing, PCB miling and laser etching.
Organizers also launched an official mobile app, How to Web Meet, developed by mReady and designed to help attendees get in touch with others, set meetings in advance and receive interests-based recommendations. The app allows access to attendees who will receive their login information via e-mail and it is now available on AppStore and Google Play.
Natalia Martian