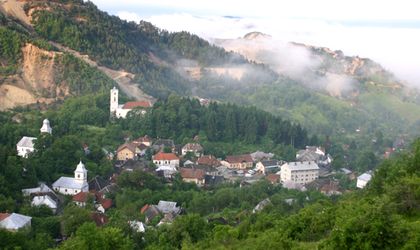 Gabriel Resources has denounced Romania for stalling the Rosia Montana project at the International Centre for the Settlement of Investment Disputes of the World Bank, say company representatives. It is currently seeking compensation for losses caused by this halt.
The Canadian company has submitted a request for arbitration in accordance with the international treaties for investment protection concluded bilaterally by Romania with the governments of Canada, Great Britain and Northern Ireland.
The action is linked to the company's dispute with Romania on gold and silver exploitation project in Rosia Montana. Gabriel Resources has an indirect holding of 80.69 percent and was due to start processes to develop, construct and operate the Rosia Montana gold and silver mining project, one of the largest undeveloped gold deposits in Europe. Due to high public pressure by Romanian environment activists and the large public, the project has been stalled, leading the company to seek compensation for violation of the protections provided by the treaties.
"By its actions and non-actions, Romania has blocked and prevented the implementation of the project without the necessary procedures and without compensation, effectively depriving Gabriel the entire value of investments. Romania has thus subjected Gabriel and its investment to a treatment that violates the obligations laid in the bilateral investment treaties, causing significant losses for the company," the statement said.
Through this arbitration, Gabriel Resources seeks to obtain full payment of the compensation laid in the treaties, launching the proceedings after the issue of a notice of the dispute, to the President, prime minister and the government on January 20, 2015.
"Gabriel's mine was irrevocably rejected by Romania's civil society despite the company's attempts to conduct costly cosmetic surgery to hide its ugly mine together with its disastrous effects to the environment, cultural heritage and human health. Its manipulative media campaigns were considered as an insult by many Romanians. It would be a pity if via the same kind of manipulation they would now highlight the soundness of their case while encouraging Romanian officials to a poor defence and implicitly, to a share of damages," said Stephanie Simon, legal adviser of the Alburnus Major NGO.
Alburnus Maior is an NGO based in Rosia Montana, representing the interests of local property owners who since 2000 oppose Gabriel Resources' proposal on social, environmental, cultural and economic grounds.
Natalia Martian