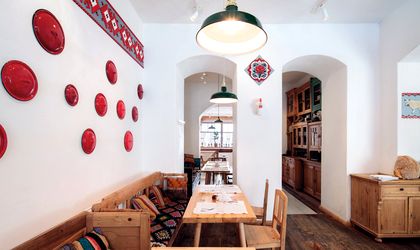 When both chefs and architects can help transform a meal into a full sensorial experience, it definitely heralds a new stage in the evolution of the Romanian gastronomy scene. BR feasted its eyes on the igloo guide to the best Restaurants from Romania and discovered how local diners have developed a taste for unconventional venues.
By Oana Vasiliu
Bucharest is home to an array of restaurants, some of which are discreetly tucked into conceptstores, wine bars and clubs, or even pubs that take on a different look during the day, hosting unconventional parties or themed workshops. These locations have pushed professionals to blend the contemporary restaurant function with architecture and design to form a coherent and harmonious ensemble.
The new materials on the market, the diversity of the existing furniture and decorations, and the challenge of using design to create a strong identity make these restaurants attractive to architects, as well as to owners, especially since the conventions are becoming increasingly flexible, allowing more space for creativity.
Locations like Tears and Saints (Lacrimi si sfinti – in picture), Loft, Iconic Food & Wine, La Bonne Bouche, Biutiful, Negresco, Vecchio 1812, Maison 13, Club Phill, Le Bistro, Madame Pogany, Energiea and Mercado have moved beyond strictly commercial purposes, tapping into a cultural or even social gesture.
The architectural characteristics of these restaurants make dining in them an interesting sensorial experience: a typical Romanian space in a modern key, as seen at Tears and Saints, the retro flavors of Iconic Food & Wine cigar club, La Bonne Bouche's traditional French bistro with a contemporary touch, the open atmosphere of Biutiful, traces of the Byzantine era in Vecchio 1812, Maison 13 and Mercado's complete facelifts, the youthful approach of Club Phill and the vintage touches of Negresco, Energiea and Le Bistro are some examples.
Although igloo's experts believe these locations are still underappreciated, they urge architects, designers, owners and even customers to understand the challenges and rewards presented by this type of space and to seek to innovative and channel the spirit of the place.
The selected restaurants are covered in detail in the recently released igloo best book, Restaurants from Romania.