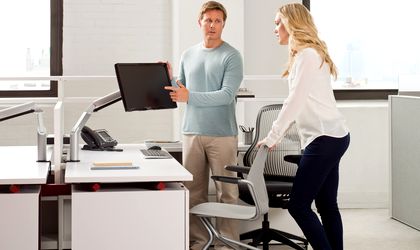 Price-conscious Romanians spent EUR 758 million on furniture in 2012, down 2.3 percent on the previous year. As retailers see almost no prospect of improvement on the table for the local market, judging by first quarter results, manufacturers expect growth to come mainly from external markets.
 Simona Bazavan
Local furniture manufacturers have had a good start to the year, with production increasing by 11 percent in the first quarter of 2013 y-o-y, Aurica Sereny, president of the Romanian Furniture Manufacturers Association (APMR), told BR. Overall she predicts that the industry will post "slightly better results" this year but stresses that any growth will come from exports as the internal market shows no sign of recovery.
The numbers confirm this. Furniture exports increased by 14.8 percent in the first two months of 2013 and are forecast to grow by an overall 13.2 percent by year end. However, internal consumption dropped 10.8 percent in the first two months and Sereny says it is hard to forecast how it will fare through to year end. Players on the market agree.
"It is hard to say how the market will evolve until the end of the year, but we are positive. (…) We have seen an increase in visitors so there is a renewed interest in house decorating," Lars Lund, country manager of furniture retailer kika Romania, Croatia and Serbia, told BR.
Despite some positive signs, overall Romanians continue to be very careful with their furniture budget – that is if they have such a budget at all. Local producer Rus Savitar, which owns the Casa Rusu retail brand, says the market is continuing to contract. Not only is the purchasing power showing no sign of improvement but on top of this, since the beginning of the year manufacturers have seen price hikes for all raw materials they use, Marius Raia, general director at Casa Rusu, told BR. Given the market context, such price increases cannot be passed onto consumers, he adds. The solution has been to renegotiate with suppliers, increase productivity and reduce margins.
Despite the shrinking market, the Rus Savitar group of companies posted a turnover of EUR 27 million last year, up 10 percent y-o-y, and has plans to further boost this by 15-20 percent in 2013. The increase will mostly come from expanding the company's own retail chain as well as the number of franchised stores and by reaping the benefits of investments in production. Rus Savitar has invested a total of EUR 22 million in its production facilities so far, out of which EUR 5 million is presently being invested in order to increase the production capacity for upholstered furniture. The company owns 13 stores under the Casa Rusu brand and has plans to invest some EUR 2 million this year in opening about eight new outlets. In addition to this, it also has 11 franchise outlets whose number should also go up this year.
Another important player, Lemet, thinks the market will most likely stagnate or in the best case scenario post a single-digit growth rate this year, Adrian Rizea, the company's commercial director, told BR.
Lemet, which owns the Lem's retail brand, says the average sum a customer spent in its stores in 2012 was RON 3,000 (approximately EUR 674) and this remained constant in the first quarter of 2013. In order to boost sales this year, the company has plans to open 15 new stores throughout 2013, out of which five have already begun trading, and to launch new products. Expanding locally is the company's focus, rather than exports, says Rizea. Lemet reported a turnover of RON 210 million (approximately EUR 47 million) last year, up by more than 20 percent y-o-y, and says that based on first quarter results it will end 2013 with a similar growth rate.
High-end furniture has no high hopes
The luxury segment fared little better in the first quarter of the year.
"A market such as that of furniture, and even more that of luxury furniture, experiences changes over longer periods of time. I can say that the past six months haven't been enough to indicate a change in either direction", Camelia Sucu, owner of Class Living, toldBR. She added that the chance of changing consumer behavior continues to lie entirely in offering customers added value. "When selling luxury furniture the value of what the customer pays for has to be higher than the piece of furniture itself," she explained. This generally means design advice and ideas, customized solutions and a complete package of products and services.
Moreover, the businesswoman is expecting no major improvement by the end of the year "as there will neither be spectacular changes at a macroeconomic level or at the level of economic or lifestyle indicators. Furniture hasn't been a fast-moving market for a few years now. Investments are now being made on a longer term because furniture has to last longer and acquisition decisions are more difficult for consumers to take (…). In short, the trend of the furniture market integrates naturally in the economy's overall trend, be it stagnating or regressive, because we no longer really know".
Customers are looking for value for money even when it comes to high-end furniture. Their budgets have experienced no real change and they are looking for comfortable pieces of furniture which will last longer, she says. Those wanting a design change are more inclined to buy accessories rather than invest in the more expensive option of entirely new furniture.
Here too there is pressure both on manufacturers and retailers to increase prices. One common solution has been line extensions – when the same manufacturer produces both expensive and cheaper lines of products under the same name or brand or very similar ones. It is like in the fashion industry where both haute couture and pret-a-porter live together under the same name, the entrepreneur explains.
The solution for Class Living has been to reinvent its concept, she says. "From a multibrand furniture retailer we have shifted it into a more comfortable area for premium customers so that it offers much more than simply pieces of furniture but also advice and concepts," she added. Sucu says she has also opted for a better segmentation between the network's stores.
"In the Stefan Cel Mare Class Mob outlet we have quality furniture, but at more affordable prices. In the Iconic concept store we brought all our flagship pieces, the spearheads of the collections, and special pieces from some designers. I kept the collections that have my personal print for the new Class Living showroom," said Sucu.
Positive signs for office furniture
The availability of more office buildings has led to more companies deciding to move, which in turn has generated good business for office furniture providers.
"After many years (three to four) of restricted budgets and low expenses, more and more companies have decided to invest more in their office environment to give a new and refreshing breath of life, showing that they have stood up well to the crisis and are now ready for better times – even if nothing will be like it was before 2008," Christophe Weller, managing partner of Corporate Office Solutions (COS), told BR. He added that companies are also paying more attention to the office environment as a way to retain employees.
Despite such positive signs, Weller says it is too early to talk about market recovery. "Instead I believe it has to do with the particularities of the local market and the fact that there are some sectors that are doing very well in Romania. I am talking here about IT, call centers, some manufacturing relocations and energy. This is the trend in Romania and all the companies that are linked to these activities benefit from it," he added.
While there are no official statistics on the value of the Romanian office furniture market he estimates that it will reach some EUR 35-40 million this year, retail sales not included, up by 25 percent y-o-y but still below the EUR 80-100 million it registered before the crisis.
The company expects to reach a turnover of EUR 15 million in 2013, up from about EUR 11.7 million the previous year. Some EUR 8 million of this year's turnover will come from office furniture, the rest representing architectural fit out activities.
The average value of a project COS undertakes has gone up this year, from EUR 14,000 to EUR 20,000 per order. "Although I am not sure we can really deduce anything from these figures, I can still say that we feel that clients are spending more on their office environment than in the last two or three years. Whether it is refurbishing their existing office space or moving to a new office, they are hesitating less than before when changing or renewing their office (…) But, again, at this stage we cannot say that it is a trend that will last long," he concluded.
simona.bazavan@business-review.ro