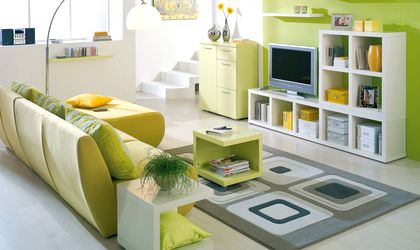 After poor sales in the first half of this year, furniture retailers are pinning their hopes for better business on the second semester. But as Romanians remain price-conscious and manufacturers look for growth on external markets, the domestic market will continue to decline, players tell BR, and will most likely finish below the EUR 928 million level reported in 2011. 
By Simona Bazavan
Furniture sales on the domestic market are estimated to have reached EUR 378.2 million in the first half of the year and while the second semester should bring better results, the forecast is not promising, say representatives of the Romanian Furniture Manufacturers Association (Asociatia Producatorilor de Mobila din Romania, or APMR). Sales are expected to be below last year for this period too and further forecasts depend entirely on the evolution of purchasing power, they told BR.
Highly dependent also on the construction and real estate field, the internal market is not showing signs of recovery, leaving many manufacturers and retailers with the only option of doing business outside the country. Furniture exports increased by 5 percent in the first semester of 2012 y-o-y, says APMR. Exports to EU countries, and even more so, to markets outside the EU, should increase further next year, according to the same source.
2012 has been proving a particularly difficult year for the segment of high-end furniture. On top of this, the Romanian market for luxury furniture and interior decorations has been harder hit than elsewhere in Europe said Camelia Sucu, the owner of luxury furniture retailer Class Living, according to Mediafax.
She hopes the company will return to profit in 2013 after last year it reported sales of RON 7.1 million (approximately EUR 1.67 million) and losses of RON 5.6 million (approximately EUR 1.3 million). Part of Class Living's strategy to resume growth is to change its approach to customers, and focus on locally-manufactured furniture and exports.
Back on the mass market segment, in the first semester of this year the local furniture market maintained a similar level to the first six months of 2011, Cristian Rusu, managing director of Romanian furniture manufacturer Rus Savitar, told BR. The company also runs the Casa Rusu furniture retail chain.
Whether 2012 will be a better year overall than the previous one remains to be seen over the coming months, he said. "Our industry is strongly seasonal with the last months of the year being very dynamic," he explained.
As for what can be expected of 2013, Rusu says it is difficult to make predictions. "It is hard because an important determining factor will be the government's macroeconomic stimulus measures as well as the evolution and any difficulties of EU member economies," he said.
After reporting a EUR 27 million turnover last year, Rus Savitar managed to increase its business by approximately 10 percent in the first half of 2012 y-o-y. The growth came from extending the company's retail chain and franchised stores, launching new products and investing in better quality services and also from entering new export markets, said Rusu. New Casa Rusu stores will be opened in the future and the company is currently considering expanding to Oradea, Iasi and Constanta.
At present there is an increased demand for modular pieces of furniture which allow customized solutions. This is one of the reasons Rus Savitar has begun work to expand and modernize its furniture factory near Timisoara, which will require an investment of approximately EUR 5.8 million. This will allow the manufacturer to increase its production capacity fivefold, to 10,000 upholstered furniture products per month. Rus Savitar will also invest in a factory for customized pieces of furniture.
The average shopping bill at Casa Rusu is RON 1,500 (approximately EUR 340), a similar level to the previous year. "The purchasing behavior has changed since the beginning of the crisis and now we are seeing a new consumer profile when it comes to acquiring durable goods. Romanians remain cautious and are waiting longer before making the final purchasing decision. They are also more demanding and buy only when the product fully satisfies their budget and quality demand," he explained.
Meeting customers' budget constraints is however becoming more difficult, as just like in other industries, furniture manufacturers and retailers are facing pressure to hike prices due to higher costs of raw materials and energy bills. Given the low purchasing power this is not an option in most cases, with retailers choosing instead to reduce their profit margins.
"There has been pressure to increase prices coming mainly from the fact that energy is more and more expensive (…). However we are making sustained efforts to maintain furniture prices at the same level," said Rusu. The fact that the company directly sells the furniture it manufactures enables it to come up with promotions with discounts of up to 25 percent.
Austrian furniture retailer Kika says overall it has not increased prices but there are products where prices have gone up because of the higher costs of transportation and raw materials, Kika's local CEO, Lars Lund, told BR.
He says that so far this year the average spend at Kika has increased by 18 percent and consumers are increasingly interested in additional services such as home planning, floor laying, putting up wallpaper and
others, said the CEO. Next year the company plans to continue its promotional sales programs.
The firm invested EUR 31 million back in 2008 in its first and currently only Bucharest store and says it is still interested in a new one. "Securing good land is the hardest part" said Lund.
Office furniture buyers drive a hard bargain
On the office furniture segment, the market posted a slight increase in the first six months of 2012, Christophe Weller, managing partner of Corporate Office Solutions (COS), told BR.
"It was simply due to the existence of more projects, meaning more companies moving to new facilities or revamping their existing workspace. The reason for this trend is the current state of the real estate market, offering high quality workspaces at very good rates. Therefore, some companies are taking the opportunity of having a tenant's market to move to a new space or to renegotiate their existing space at a better rate, which automatically generates the need to buy new furniture," he said.
But just as there is a tenant's market for office real estate there is a buyer's market for office furniture. "Buyers know that opportunities to sell furniture are rarer these days so their project is becoming even more important for all the potential sellers. Negotiations are harder and harsher," he said, explaining that customers are making more informed choices by looking more closely at the companies which are tendering and the products proposed.
Demand continues to come mostly from IT companies, as well as professional services such as call centers and services support centers. "We're also feeling an increasing presence of companies linked to the oil and gas industry," said Weller. However there have been no real changes compared to the previous year.
In terms of products, the demand was mainly for functional and ergonomic furniture. The value of projects undertaken by COS is between EUR 10,000 and EUR 500,000 with an average of EUR 50,000 per project without "any real change compared to last year".
Here too there is pressure to increase prices. "Our manufacturers have had no choice but to increase prices. But the effect has not been felt so strongly because both our manufacturers and ourselves took measures that resulted in lower profit margins," said Weller.
The company's turnover last year was slightly higher than in 2010. As part of its sales strategy, COS has hired additional sales representatives and renegotiated contracts with its existing manufactures "in order to get their commitment to helping the company with its pricing strategy" and is now revamping its showroom in Bucharest. The first half of 2012 brought encouraging results but the company remains cautious about the rest of the year. "We believe it will be a good achievement to finish the year at the same level as last year," he said.
As for what can be expected of 2013, Weller is optimistic. "The future looks brighter. Major office buildings have started to be built or are nearly at that stage, so the 2013-2015 timeframe should boost the furniture market since these schemes will be completed and offered to major tenants. We are already hearing about some promising preleases and we are confident others will follow. If you compare Romania to north-western neighboring countries, you will see that there is still room for many more A class office buildings. In addition, there are some sectors that will provide more opportunities when the investments come at a bigger scale: healthcare, hospitality and education for instance," he concluded.