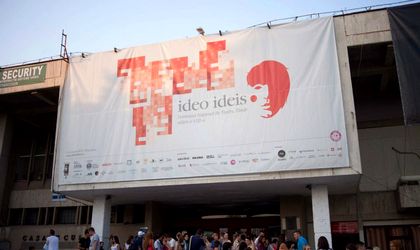 For the ninth edition of Ideo Ideis Theatre Festival that will take place in Alexandria, Teleorman, in August 2014, the organizers need some financial support from the theatre lovers, inviting them to a fundraising gala on March 6, from 18.30, at Godot Café (14 Blanari Street, Old City Center).
For nine years now, this festival brings to life a town that doesn't even have a cinema, being supported with enthusiasm and implication of some of the greatest Romanian actors and others people active in the cultural sectors. Also, the event addresses to high school teenagers, who spent in Alexandria two weeks to discover the art of the theatre performance.
At this fundraising gala, the high school group AS will present "Never let me go", a show created after Kazuo Ishiguro's novel, who's won Godot 2013 Award. The fundraising consists of an auction of personal belongings of actors and friends of the festival, such as Marcel Iureș,Marius Manole, Horațiu Mălăele, Cătălin Ștefănescu, Medeea Marinescu, Andi Vasluianu, Vlad Zamfirescu, Silviu Purcărete, George Mihăiță, Tudor Giurgiu, Cristian Mungiu, Florin Piersic Jr., Nicu Alifantis, Dragoș Bucur, Radu Naum, Marian Râlea, Ada Solomon and Alexandru Tomescu.
Photo courtesy of Ideo Ideis Facebook page
Oana Vasiliu