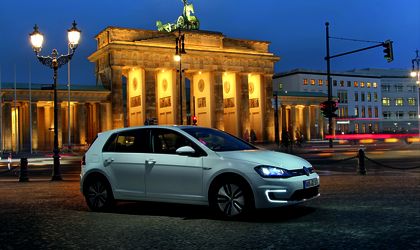 With a long tradition in manufacturing high quality cars and a brand worth billions of dollars, Volkswagen Group made a historical mistake: that of  testing its customers' loyalty. While pundits say that the giant car brand might be crushed after the current scandal, VW officials seem to be confident in the company's future.
Anda Sebesi
While in more developed Western European countries car sales post small variations from one year to another, in Romania things are different. The high fluctuation volatility of the local car market makes it difficult to anticipate its medium and long-term evolution. For example, while in Western Europe car sales blossom in certain months, in Romania they can post their lowest levels. "Car sales depend significantly on the economic context of a country. Their evolution show if the population is confident in the local economy. Romanians pay a lot of attention to the periods when they buy cars, postponing their buying decision in accordance with the implementation of national programs which offer significant discounts for the purchase of new cars," says Cristina Gheorghitoiu, general manager at Naspers Classifieds Romania.
Developments of the international car market in the past few years show that EU countries face small variations of their new car sales annually, with February being their least profitable month while March, June and August bringing the most sales. By comparison, according to Autovit.ro data, Romanians buy more new cars in May, June and August because of the benefits offered by the "Rabla" national program, while in the first half of the year they are more cautions. "Rabla" is a governmental program that encourages the renewal of the local car fleet. It is supported by the Environmental Minister and aims to exclude used cars from circulation and replace them with new, less pollutant ones.  As for the second-hand imported car sales, July, October and December are the most lucrative months while January, February and April are the least profitable ones.
According to Car Producers and Importers Association (APIA) data, the local car market posted an increase of 16.8 percent in the first eight months of this year in comparison with the same period in 2014, with 75,288 units sold. Commercial vehicles (31.8 percent) and passenger ones (14.3 percent) were the main drivers in the local car market. As for imports, commercial cars increased by 29 percent, to 12,348 units, followed by passenger cars (10.1 percent or 41,002 units) and buses (3.9 percent or 958 units). The same data shows that total imports increased by 13.8 percent to 54,308 units in the first eight months of this year, while exports grew by 2.4 percent to 237,773 units in the same period. In addition, the total number of cars produced and assembled increased by 1.8 percent to 256,571 units in the first eight months of 2015.
As for the passenger car brand with the highest sales in this period, Dacia is ranked first with 21,777 units sold, followed by Volkswagen (6,223 units), Skoda (5,502), Ford (3,890), Renault (3,707), Opel (2,349), Hyundai (1,790), Toyota (1,734), Fiat (1,609), Mercedes-Benz (1,515), according to APIA estimations.
It seems that Volkswagen is one of the most popular brands among Romanians, as it is positioned 2nd in top ten passenger car sales ranked according to fuel usage (3,862 diesel and 2,356 gas) in the same period of this year.
How the brand has been impacted worldwide
However, in the light of the current fast-developing Volkswagen crisis, pundits don't foresee a bright future for the German brand, neither in Europe nor worldwide. According to the most recent data existing on the market, the investigation launched recently against the German group focuses on two top Volkswagen engineers – Hackenberg and Hatz. During their research and development activity, the two specialists, considered to be some of the most exceptional engineers in Germany, reached the conclusion that they could not have created diesel engines according to the American environmental regulations. As a result, the German car maker equipped its Volkswagen and Audi diesel engines with software that produces reduced emissions only within laboratory tests. According to American authorities, over 480,000 diesel units have broken the American federal standards regarding carbon monoxide emissions. Vehicles affected are the 2009-2014 Volkswagen Jetta, Beetle, Golf, 2014-2015 Passat and the Audi A3. Similar problems have been reported with other brands part of the VW Group in Europe. Furthermore, the Volkswagen Group has admitted to equipping the engines with electronic devices designed to deceive emissions testers.
Hackenberg and Hatz were appointed R&D managers at the VW group in 2007, shortly after Martin Winterkorn became its general manager. During the Martin Winterkorn mandate, Volkswagen achieved its worldwide sales target of 10 million units in 2014, four years earlier than expected. The Group became the largest car manufacturer in the world in the first half of this year, overtaking the Japanese giant Toyota Motors for the first time in terms of sales. As a consequence to the current crisis that Volkswagen faces, its CEO Martin Winterkorn resigned at the end of September.
Regardless, the current scandal developed quickly worldwide and many countries have arrested the sales of some VW models, while local governments have taken measures to tighten up the emission standards for diesel engines. The consequences didn't stop here. According to the international media, the VW crisis led to a 43 percent drop of its market shares, while 11 millions units will be recalled worldwide to both remove the illegal software and make changes to respect the current legal pollution-level. Moreover, according to American legislation, Volkswagen risks having to pay over USD 18 billion as compensation for straining the environment. According to the international press, the group has set aside EUR 6.5 billion to cover the cost of the scandal, but analysts say that the final bill could be much higher. On the PR front, the company has also taken out advertorials in German newspapers promising: "We will do everything to win back your trust". As MarketWatch.com said recently, although VW will manage to survive in the current form, the company will have a lower market position in the next few years.
According to international media, American authorities extended their investigation regarding pollutant emissions to at least 28 other models made by BMW, Chrysler, General Motors, Land Rover and Mercedes-Benz, in order to see if they used similar systems for deceiving the emissions testers. Current investigations aim to determine whether VW has been the sole car maker to do so, or whether it is a common practice across the car industry worldwide. The campaign, led by American authorities, will include the majority diesel models currently existing on the American market, including BMW X3, Chrysler Grand Cherokee, GM Chevrolet Colorado, Range Rover TDV6 and Mercedes-Benz E250 BlueTec. While in America diesel cars represent just a small portion of the total cars in circulation, there are many more in Europe.
VW risks its USD 31 billion brand and Germany's national reputation
The most recent data existing on the market say that about 11 million diesel vehicles may have been fitted with software designed to deceive emissions testers. This could be a hammer blow not just to Volkswagen's reputation, but potentially to Germany as a nation brand.
According to Brand Finance's latest calculation, VW's brand value stood at just over USD 31 billion earlier this year, making it the world's 3rd most valuable auto brand. It appeared to be advancing, brand value having increased from over USD 27 billion in 2014. "The recent developments will undoubtedly send this trend into reverse, resulting in USD 10 billion lost brand value. The apparent ease with which the company's activities were uncovered makes it all the more astonishing that VW was willing to endanger its most valuable asset," says David Haigh, CEO of brand valuation and strategy consultancy at the international company Brand Finance.
A similar fate befell Toyota. The world's most valuable auto brand suffered significant reputational and brand damage following a series of recalls over mechanical issues from 2009 to 2011. "This was reflected in its brand value. After reaching a peak of USD 27.3 billion in 2010, it dropped to USD 26.2 in 2011 and further to USD 24.5 in 2012. Brand value did not exceed the previous peak until 2014, when it reached USD 34.9 billion, increasing slightly to USD 35 billion this year," adds Haigh in his analysis. In his opinion, it appeared that Volkswagen might escape such severe brand damage. Toyota's errors led directly and visibly to fatal accidents, and while Volkswagen's alleged activity may also pose a threat to life, it does so in a less direct way. "However, as the scale of the deception has emerged recently, it is beginning to look as though VW may face a crisis on an unprecedented scale," adds Haigh.
The cost of recalls and fines however, could be far more significant than those Toyota faced;  the apparently deliberate nature of VW's actions compounds the negative impact on its credibility. "This sits particularly badly with Volkswagen's brand identity which is founded on reliability, honesty, efficiency and, more recently, for environmental friendliness via models such as the Polo Bluemotion and XL1," adds the Brand Finance representative.
He adds: "It may already be too late to stop the corrosive effect VW is having on the reputation of its home country, in particular its business culture. German industry is lauded for its efficiency and reliability, while Germans as a whole are seen as hard-working, honest and law abiding. This perception has only been intensified by the Merkel government's firm, litigious approach to the Greek debt crisis," adds Haigh. The Brand Finance representative also says that because such an iconic German brand, the 'people's car', could behave in this way threatens to undo decades of accumulated goodwill and create a negative backlash over the practices of the German industry in general. "With reports that BMW has been implicated too, the damage to Germany's nation brand could become critical," adds Haigh.
Some see hope on the horizon
However, VW representatives remain optimistic about the way their company will manage to face the current crisis. Recently, Hans Dieter Potsch, the new chairman of the German car maker said, quoted by Mediafax that "the scandal of pollutant emissions represents an existential threat for Volkswagen but it can hurdle it. I think that it is a surmountable crisis for Volkswagen." According to the German publication Welt am Sonntag, quoted by Mediafax, VW officials will cut the group's EUR 100 billion investment budget by 2018.
In addition, Angela Merkel has said recently that although the Volkswagen emissions scandal has been a "dramatic event," it would not inflict lasting damage on Germany's reputation, The German chancellor added that it is imperative that the car maker now provide the "necessary transparency." "I think the reputation of German industry is not so shaken that we are no longer considered a good place to do business," she stated, quoted by BBC.
Martin Schulz, head of the European Parliament and a German Social Democrat, said the affair was a "heavy blow for the German economy". "It's hard to believe what was done there negligently and possibly even with criminal energy. But I believe that Volkswagen is a strong company that has every chance of surviving the crisis."