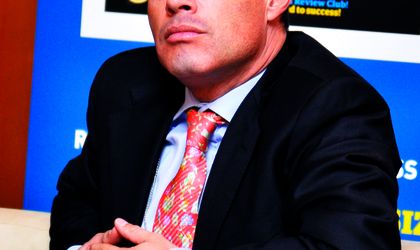 How Romania is perceived in France continues to be different from the perception French companies already doing business here have of the local economy. A regional forum to be held this February in Bucharest, attended by around 100 French firms, is aiming to change this, Philippe Garcia, director of the economic mission Ubifrance Romania, told BR.
By Simona Bazavan
What can you tell us about the regional forum Ubifrance will be organizing in February? Why in Bucharest, why now, and what will the main discussion topics be?
The business forum that we will hold on 11 and 12 February 2014 is meant to attract French firms. We are targeting 70 companies from France and 30 French subsidiaries here. Our main target is to promote the French offer in the SE European region, from Slovenia to the Republic of Moldova, the ex-Yugoslavian space, Greece and Bulgaria. We expect about 150-200 Romanian firms and 100-150 local companies from across the region to come to Bucharest for the forum.
The idea is also to focus on what is an unknown, unconsidered region in France. French companies are currently attracted by big, emerging countries, sometimes without considering that close to France there are emerging countries. We want to make this area better known to French companies and our goal is to make businesspeople see Romania as a land of opportunities.
Why in Romania? Our purpose is to highlight a different side of Romania than the usual focus of the French media or opinion formers on the usual topics. We chose to organize the forum here to show France and the business environment, through the Ministry of Foreign Trade which will attend the event, that Romania is a business country, with great opportunities, rather than being the country that we think it is in France. So we want to change the French perception of Romania.
The presence here of some 70 French companies is a very good vector to promote Romania as a real business destination. French business people coming here are pleasantly surprised by what they find and when they go back to France they promote Romania. Their feedback is positive. We calculated the time between the first and second visit, and they come back in less than two months on average, which is excellent.
Why now? Because we believe we are in a transition period from a phase which we can call "end of crisis". We feel it and the French businesspeople here have started to feel the return to sustainable GDP growth.
We recruited companies according to the needs and potential of the Romanian and regional market, so the event will focus on infrastructure, transport, health, agriculture and IT.
What were the biggest French investments in 2013?
Let's speak about 2012 and 2013 as this period coincides with the end of the crisis. The main investments were in the sugar industry; Tereos bought a big sugar factory in Ludus. Another big investment was the takeover of Real by Auchan. I would say that the main French investments in Romania have already been made, mainly over 2000-2008 and even though no major French investments have been made during the crisis, please bear into mind that no French company has left the market either.
In the past few months, the main investments went into developing existing companies, modernization and environmental protection. I would mention here Lafarge, which invested EUR 20 million in environmental protection equipment at its Medgidia factory. Hutchinson also invested EUR 2.5 million in a production line for Airbus, an extension of the industrial site in Brasov, and over 200 new jobs were created as a consequence. So I would say that lately, French investments have been made in strengthening companies' presence in Romania. It is a signal that French businesses are reinforcing their presence here, they did not leave the market and they believe in Romania!
What are Romania's strong points compared to other regional markets when it comes to attracting French investors? Has this changed over the past couple of years?
There are several strong points. I will mention firstly the size of the market, 20 million consumers. Being part of the EU is a plus, as it gives confidence to investors. Human resources skills in engineering, IT and many other sectors are highly appreciated by France. Stability for investments is also important, and I am saying that within the global context, Romania is very, very stable. Romania also enjoys a fair geographical position which will allow it to become a hub to approach other eastern markets (Russia, Ukraine, Turkey). At the same time, it could become a hub for the Eastern European region, especially for the automotive industry. There are nine car manufacturers in Poland, Hungary, the CzechRepublic, Slovakia and Romania, so your country could become a production hub for the automotive industry. France and Romania also enjoy excellent inter-governmental links, with the signing of the "feuille de route" for strategic partnerships between our prime ministers in February in Paris.
What interests French investors about Romania has changed. In the years following the revolution, Romania was considered a low-cost country. Now it is considered a real country and investors are coming here because there is a market and a highly skilled labor force.
In addition to that, more and more companies are migrating back from China to Europe, closer to their natural markets, and they almost make the choice of Romania; I'm talking here mainly about the manufacturing sector.
To what extent is the present volatility of the Romanian political and legal scene affecting the country's capacity to attract more French investments?
The stability of the country has to be measured over a long period and regardless of some slight political instability compared to what happens in other parts of the world. We witness very slight legal changes and very slight fiscal ones. Are we speaking about 1.5 percent of patrimony to finance the development of infrastructure? This seems to be a good idea. The present volatility does not affect the country's capacity to attract more French investment.
What are the top five complaints French companies make about doing business in Romania and what are their suggestions to address them?
The lack of infrastructure – highways and roads – is definitely a matter of concern to French investors. This is the first topic debated by French businesspeople while looking at investing in Romania. They also complain of too much bureaucracy, but we have seen an improvement lately from this point of view. I would also mention the country's incapacity to promote its own real image abroad; sometimes we feel that we are doing the job instead of them. Then there is the incapacity to attract and spend EU funds. Last but not least, French investors complain about the delayed payments from the Romanian state in some sectors, pharmaceutics for instance.
Do you expect an increase in French investment projects in Romania over the coming years, and what does this depend on?
We are definitely expecting a lot of new investments because we feel that the potential of Romania has not been exploited properly. The main fields are agriculture and infrastructure. Our capacity to attract new investment is directly linked to the government's capacity to build infrastructure (transport infrastructure mainly) in accordance with Romania's status as a big European country. Today the infrastructure is not befitting of a big European industrial country. Investors are still reluctant to come here because of this major issue.
We expect a lot of investment in mass market retail and luxury. We believe it is not normal that in a country like Romania there are currently only two or three luxury brands, so we are working to bring more, and we strongly believe that many of them will come in the next few years.
How much did French-owned companies invest locally last year and how does this compare to the previous year? What are the estimations for 2013?
We don't have the official figures. However, France's total investments in Romania amount to EUR 7.2 billion and the level is not decreasing, but growing. Total foreign investments in Romania stand at about EUR 59 billion and France accounts for 12 percent. We are more investors that suppliers. For France, Romania is more a land of investment than a country for exporters. We are working a lot on the automotive industry, as we believe we can bring many more original equipment manufacturers to this market.
simona.bazavan@business-review.ro