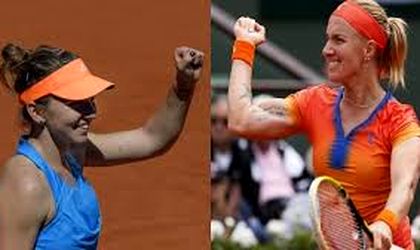 The most important game in Simona Halep's career ended with the Romanian player's victory after defeating Svetlana Kuztnesova on Wednesday in the French Open quarterfinals, 6-2, 6-2.
The game was delayed nearly three hours as a result of the bad weather and the Russian player needed medical attention in the second set.
"I felt very well on court, it was a perfect day for me. I did my game, I was very agressive and I played very fast. It was a good match and now I am really happy I can play in the semifinals", Simona Halep said after the match.
Watch a video with the match's highlights
In the semifinals, Halep will face 28th-seeded Andrea Petkovic of Germany.
Petkovic, who saw her ranking slip to 177 last year after peaking at number nine in 2011 when she reached the quarter-finals in Australia, Roland Garros and the US Open, is back near the top as she defeated Errani on Wednesday. The extrovert Bosnian-born German has yet to reach a Grand Slam semi-final, writes sports.inquirer.net.
"I feel like I still have a long way to go, and I'm still not as consistent as I used to be. There are still a lot of things that I need to learn and still a lot of things that need to come back that are gone now," she said in a conference at Roland Garros.
Should Simona make it to the final stage of the competition at Roland Garros, she will climb another position in the WTA ranking, reaching the 3rd spot.
Not only is this the best performance Halep ever recorded at Roland Garros, but it is also only the first time she has reached the Semifinals stage at a Grand Slam Tournament. Advancing to the semifinals stage is rewarded with 780 WTA points and a cash prize of EUR 412,500.