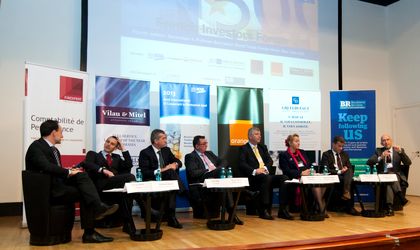 With the direct investment flow from France reaching EUR 7 billion, making the country the third largest investor in Romania, French companies are calling for improvements in infrastructure and the labor market, while planning to further develop businesses in the energy, healthcare and agriculture areas. These were some of the statements made by representatives of firms and public officials at the fourth edition of the French Investors Forum, organized last week by Business Review.
By Ovidiu Posirca
Romania hosts more than 3,500 companies with French capital, out of which 96 percent are SMEs with a turnover below EUR 10 million, according to Philippe Garcia, director of the economic mission Ubifrance Romania. This signals a strong French presence locally: by way of comparison Poland has a quarter as many companies and Italy, France's second biggest commercial partner, a third as many, explained the director.
"There are 38 French groups active in Romania. With the exception of China, I don't think there is another country with such a concentration of French groups," said Garcia.
He added that the largest French enterprises present in Romania had a combined turnover of EUR 16 billion last year, and employed around 122,000 people.
French investors wanting to make or continue investments locally are seeking stability in the political and legal scene, more precisely in fields such as justice, said Philippe Gustin, the Ambassador of France in Romania.
The diplomat added that Romania had to complete highway and railway networks, which  are necessary for the development of the country and the continent. Companies doing business locally are also growing concerned with the lack of young workers in the industrial sector.
"Romania had an important industrial component, so there was a labor force able to work in industry. These workers are retiring now and not being replaced, especially as there is no training to meet the needs of the enterprises," said the ambassador.
The country hosts major French firms active in utilities, infrastructure, energy, automotive and telecom, according to representatives.
Romania went through a privatization program in the late 90s, which allowed French companies such as the lender BRD-Groupe Societe Generale, building materials group Lafarge and carmaker Renault to gain a foothold locally, said Dana Gruia-Dufaut, founder and lawyer at the Gruia Dufaut law office. The state decided to sell more than 51 percent in enterprises in order to attract the know how of foreign firms, mainly French. Most of the companies came in the run up to 2007.
"Back then these privatizations gave Romania an economic boom, and many French companies built up significant market share," said Gruia-Dufaut.
Among these firms were telecom operator Orange Romania, water utility provider Veolia Apa and the gas and power utility firm GDF Suez. These French companies have invested massively in Romania and say they are here to stay for the long run.
Profit on tap
Veolia Apa is handling the water distribution and wastewater treatment in Bucharest through to 2025, after signing a concession contract in November 2000. Earlier the same year, the company signed a similar deal in Ploiesti, which is an hour's drive from Bucharest. This was the first delegation of public services for water in Romania.
These companies work through a public-private partnership and the public authorities have maintained a minimum stake. The Bucharest municipality holds a 16.3 percent share in Apa Nova Bucuresti, the concession company, while the employees hold ten percent. In Ploiesti, the municipality holds a 27 percent stake.
The French utility has contributed EUR 36 million to the capital of the newly formed firm in Bucharest and EUR 20 million in Ploiesti.
"In 2000, we took over services that were practically in bankruptcy," said Bruno Roche, country manager of Veolia Apa. He is also the president of the French Chamber of Commerce, Industry and Agriculture in Romania (CCIFER).
The utility had to restructure its personnel into two units, but now has employees that are flexible, mobile and fast learners, said Roche. Around 2,300 people are currently working in Ploiesti and Bucharest.
Veolia has invested EUR 250 million in the last 11 years to extend and modernize the water network in Bucharest, reaching a turnover of RON 494 million (EUR 108 million) last year.
"We have reduced losses in Bucharest by more than 150 million cubic meters. We have reduced electricity consumption by 70 percent by having more efficient pumps and operating them in a more efficient manner," added Roche.
Going forward the utility firm wants to focus on services with added value, such as power production from wastewater. The wastewater in Bucharest is currently treated in Glina and the entire biological process allows the production of gas and electricity.
"Today, we are 65 percent autonomous when it comes to electricity consumption," said Roche.
Apa Nova Bucuresti had 120,000 customers last year and over 2 million consumers for its water supply and/or sewage. It has 22,000 clients in Ploiesti, and provides services for 233,000 inhabitants.
Meeting investment needs in telecom
French telecom company  Orange Romania is the leading operator with 10.23 million users, tallied by SIM cards, on a market with a turnover of EUR 3.6 billion or 2.3 percent of GDP, according to Catalin Stan, corporate strategic development and partnerships manager, business to business, at Orange Romania.
Orange came to Romania in 1996 after France Telecom won one of the two mobile licenses. It launched the first service four months later and the first prepaid service the next year.
The French telecom operator has invested more than EUR 2 billion in Romania in the last 16 years, according to Stan. It currently employs 2,800 people.
"Last year, the investments were more than EUR 110 million for the extension of the 3G network from 55 percent coverage of the Romanian population to more than 99 percent," said Stan.
Orange, which has a market share close to 40 percent, plans to invest another EUR 600 million through to 2015. The company will pay EUR 230 million for the 4G licenses and another EUR 100 million to free certain frequencies. Stan said the rest of the money would be invested in the network.
Romanian energy needs efficiency
French utility firm GDF Suez came to Romania seven years ago, when it acquired the state-owned Distrigaz Sud, and has invested EUR 600 million since then. The largest share went into modernizing more than 60 percent of the gas network, the IT system and marketing, according to Yvonnick David, general director of GDF Suez Energy Romania.
In 2008 GDF Suez energy Romania set up its gas distribution branch Distrigaz Sud Retele. The company currently supplies gas to some 1.4 million customers in Southern Romania, including Bucharest. It employs close to 4,000 people.
The utility company is an electricity operator and has been investing in electricity production since 2011. GDF Suez expects to complete is first wind farm, with a 48 MW capacity, by yearend, following an investment of EUR 75 million.
The director commented that Romania offers huge potential in gas, electricity and wind energy. "In this part of Europe, Romania is a strong player in the field of energy," said David.
Energy efficiency is the next areas with major potential for Romania, according to the utility firm director.
"Today, Romanian energy efficiency is 30 percent lower than the EU average and it will climb to 50 percent by 2015," said David.
He added that French groups are now getting SMEs as partners to work in the field of energy efficiency.
Fixing infrastructure and administration
Garcia of Ubifrance said the infrastructure topic is becoming more crucial in Romania, mainly the road and highway areas.
"Against this background, you can support the economic development of the country," said Garcia. "Large French groups are ready to come back to Romania and are ready to invest and help Romanians to implement their big infrastructure projects".
Companies that are working with the state on developing large projects, such as highways, need to know the potential issues they might face in delivering the schemes.
"Under the current legislation the Romanian state can't come with warranties of financing. There is a major risk because at a certain point the project could stop because the state hasn't done its job," said Sorin Mitel, partner at law firm Vilau & Mitel.
For instance, if expropriations of individuals' property are necessary, and this hasn't happened after three years, huge investment has already taken place, but the project is blocked, according to Mitel.
The constant changes in the public administration are making inventors uncomfortable, as they are looking for more stability, both in the political and management levels.
"Each new government should not change the whole administration, from the state secretary to the cleaner," said Roche of Veolia Apa. "If we go six months later, we want to see the same person."
Roche said that technocrats are a fair option that allows businesses to advance.
ovidiu.posirca@business-review.ro