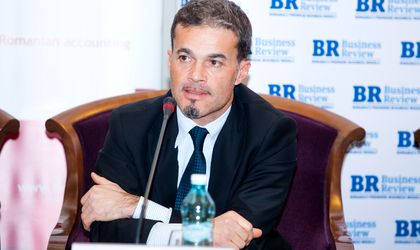 Philippe Garcia, director of the economic mission at Ubifrance Romania, says that a growing number of French companies seeking to relocate their businesses from countries such as China back into Europe see Romania as a top destination.
Ovidiu Posirca 
He adds that French investors looking to tap the local market see high potential in a wide array of sectors including automotive, infrastructure and agribusiness. Garcia points out that trade between France and Romania exceeded EUR 7 billion last year and is set to grow further this year, already expanding by 9 percent in the first half of 2014.
What was the feedback from French companies following the regional economic forum organized by Ubifrance in February?
The feedback from the Business Forum is very positive. First of all, almost 80 French businesspeople coming from France had the opportunity to discover an unexpected Romania, completely distinct from the counterfeit image that usually pervades their mind: Bucharest showed itself to be a premium huge regional business hub! Furthermore, many of them had the opportunity to start doing business with partners from Romania and 12 other countries from South-Eastern Europe.
[restrict]
What is your forecast for trade between Romania and France this year?
Our bilateral trade has been growing continually for a few years now, surpassing EUR 7 billion in 2013. In 2014, with the strong recovery of the Romanian economy, we expect to reach a higher level of exchanged goods. In the first six months of this year, our bilateral trade kept going up, with a rise of more than 9 percent against the first half of 2013.
How is the economic situation in France impacting French companies' plans to venture into Romania?
As far as Ubifrance is concerned, we have one main mission: lead French companies towards fast-growing countries, as Romania has been for two years now.
What are the local sectors with high potential from the vantage point of French investors?
Automotive, infrastructure, agribusiness, luxury & FMCG, health and professional training.
 What are the challenging areas in Romania's business environment?
Infrastructure and professional training. Their development represents the two main pillars of growth of any other activity in the country.
Have you had signals from French companies looking to further develop their operations in Romania?
A lot! In the automotive industry, agribusiness and many other sectors. One interesting statement: more and more French companies are looking to relocate their activities from countries such as China to Europe, and Romania is one of their top destinations!
How is Ubifrance getting involved in attracting French investments to Romania?
First of all, our team is constantly in touch with the Romanian administration and institutions and obviously with the private sector, in order to follow the reality, evolution and demand on the local economy. Then we are very reactive and proactive, as Romania is a competitive market and we know very well that it is a priority in the region for our main competitors. One of the assets of our bilateral relationship is a fine-tuned harmony between Romanian demand and French supply, in the country's strategic economic activities: industry, banking, retail, energy & the environment, and telecommunications. In 2013, we individually coached more than 250 French companies to succeed in this market, providing them with a full range of consultancy services, in partnership with a group of the top French and Romanian experts (human resources, banks, insurers, lawyers, fiscal advisory, logistics, advertising agencies and real estate advisory). Among those 250 companies, more than 80 have already started to do business in Romania. In 2014 and 2015, we will increase the perimeter of our consultancy services to increase the penetration of French companies in the Romanian market.
Moreover, we'll have organized nine collective events by the end of this year in order to consolidate the Franco-Romanian partnership in areas such as luxury & FMCG and in the beef sector, by transferring French know-how in livestock and supply chain structuring. This event is meant to develop the local production of premium beef for local consumption.
In brief, we are permanently connected to the market needs and always try to anticipate them!
ovidiu.posirca@business-review.ro
CV Philippe Garcia
2011 – present commercial counselor and director of the Ubifrance office in Bucharest
2006 – 2011 head of the ITI pole at Ubifrance in Milan
2004 – 2006 deputy head of the economic mission in Luxembourg
He graduated from the Superior School of Commerce in Paris (ESCP Europe)
[/restrict]