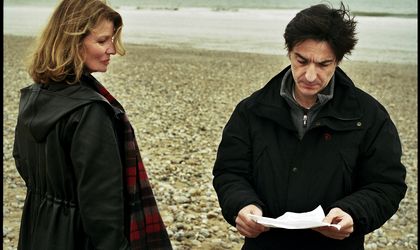 Two of the sacred monsters of France's cinema will be honored at the French Film Festival:  Alain Resnais, an artist famous for playing with perception and reality, and Agnes Varda, whose work seeks to explore emotions. So what's on screen this year?
The French Film Festival, will include 16 films, a short movie projection and two mini-retrospectives in several cities across Romania: Bucharest, Sibiu, Iasi, Cluj, Targu Mures and Timisoara. The festival will kick off in Bucharest with 38 Temoins, a psychological film noir and claustrophobic murder mystery, which has seduced critics at Le Monde and Les Inrocks.
Other movies featuring in the festival include Camille Redouble, La Vie d'une Autre, Les Infideles and L'amour Dure 3 Ans, which consider questions about relationships, couples, faithfulness and true love, themes from the creations of directors Agnes Varda (Sans Toit Ni Loi, Jacquot de Nantes) and Alain Resnais (Les Herbes Folles, L'annee Derniere a Marienbad, Muriel ou le Temps du Retour, and Cœurs).
This year's event also features Alain Resnais' most recent film, Vous n'avez Encore Rien Vu, the documentary Journal de France and an animated musical, Un Monstre à Paris, whose soundtrack features Vanessa Paradis and Sean Lennon.
Beyond the film projections, Bucharest and Cluj will play host to meetings and debates on Cinema 1. L'image-mouvement, a landmark book of cinematic critique written by philosopher Gilles Deleuze. This event is open to anyone interested in finding out the truth about filmmaking, as well as getting a better understanding of scriptwriting, casting, shooting, editing and screening.
French Film Festival, October 26 and November 28: films will be shown in Bucharest at the Elvira Popescu Studio at the French Institute until November 2. The nationwide event will begin in Sibiu on the same day, at Habitus, Atrium Cafe and Maison de l'Ille-et-Vilaine, moving to Iasi (Mihai Ursachi Cultural House – Diotima Hall) between November 8 and 10, Cluj (Cinema Victoria) from November 15 to 18, then Targu Mures (Arta Cinema – Flora Hall) November 23-25, before ending up in Timisoara, (West University – AulaMagna) on November 27 and 28.
Films program in Bucharest:
October 26
20h00 – 38 témoins ( 1h45′ ) – opening movie (in picture) 
22.00 – 38 témoins ( 1h45′ )
October 27
14.00 – Retrospectives Alain RESNAIS: Les herbes folles (1h45)
16.00 – 38 témoins ( 1h44 )
18.00 – Retrospectives Alain RESNAIS: L'année dernière à Marienbad (1h35)
20.00 – Camille redouble ( 2h )
22.00 – L'amour dure 3 ans( 1h38 )
October 28
14.00 – Retrospectives Alain RESNAIS: Muriel ou le temps du retour (1h55)
16.00 – Camille redouble ( 2h )
18.00 – Retrospective Alain RESNAIS: Coeurs (2h)
20.00 – Un monstre à Paris ( 1h22′ )
October 29
16.00 – Un monstre à Paris ( 1h22′ )
18.00 – Debate – Deleuze
20.00 – Vous n'avez encore rien vu ( 1h55 )
October 30
16.00 – Vous n'avez encore rien vu( 1h55 )
18.00 – Retrospectives Agnès VARDA: Sans toit ni loi (2h)
20.00 – La vie d'une autre( 1h40 )
October 31
16.00 – La vie d'une autre ( 1h40 )
18.00 – Retrospectives courts-métrages d'Agnès VARDA
22.00 – La vie d'une autre ( 1h40 )
November 1
16.00 – L'amour dure 3 ans( 1h38 )
18.00 – Retrospectives Agnès VARDA: L'une chante, l'autre pas (1h50)
20.00 – Les Infidèles ( 1h50′ )
November 2
16.00 – Journal de France( 1h40 )
18.00 – Retrospectives Agnès VARDA: Jacquot de Nantes (1h45)
20.00 – Journal de France( 1h40 )
22.00 – L'amour dure 3 ans( 1h38 )
Oana Vasiliu