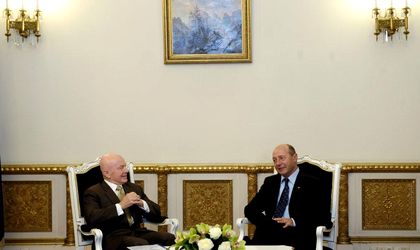 Romanian President Traian Basescu met on Monday with Dr. Mark Mobius, the executive chairman of Templeton Emerging Markets Group and Gregorz Konieczny, fund manager of the EUR 2.8 billion Property Fund, and talked about the listing of state-owned enterprises (SOEs) on the Bucharest Stock Exchange and the appointments of professional managers and independent boards at the helm of these companies.
President Basescu said the private management can improve the performance of SOEs. This is paramount for the FP, which has stakes in several SOEs, including the gas producer Romgaz, the gas pipe operator Transgaz or the Oltenia Energy Holding.
The success of the FP depends to a large extend on the reform of SOEs, according to Mobius.
"We are confident that by coming to the market and appointing professional management, these companies will be closer to reaching their full potential, which will subsequently reflect positively on Romania's economy," said Mobius.
Greg Konieczny added that future listings and stronger corporate governance stands can sustain growth in value of the FP.
"We are hopeful that future listings and stronger corporate governance standards will significantly help to unlock the value of the Property Fund's portfolio companies that should ultimately support longer-term competitiveness of the Romanian economy," said Konieczny.
The net profit of FP gained 7.3 percent to RON 574.6 million (EUR 139 million) in the first nine months. The fund plans a secondary listing in Warsaw by June 2013, a measure shareholders have to vote on later this week. The secondary listing was delayed due to a missing link between the central depositaries in Romania and Poland.
As of September, the largest shareholders in FP where US hedge fund Elliott Associates – 14.95 percent – City of London Investment Management – 9.7 percent – and the RBS with 5.4 percent.
More than half of the Fund is currently controlled by foreign institutional shareholders.
FP shares lost 0.75 percent to RON 0.5305 on late Tuesday trading.
Ovidiu Posirca