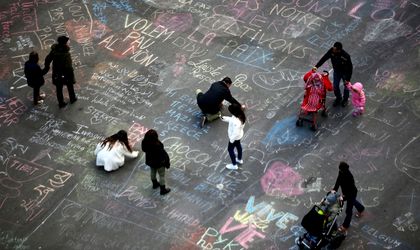 News of Romanian casualties are emerging, after yesterday the Prime Minister had announced the contrary. The Ministry of External Affairs (MAE) stated there have been four Romanian citizens injured in the Brussels attacks that took place on Tuesday morning at the airport and metro.
One of the victims is underage and is currently hospitalized and under the care of a relative. Of the other three casualties, one has been released, while two remain under medical supervision.
The explosions, caused by the terrorist group ISIS, have claimed the lives of 32 people, while some 230 were reported injured. The toll had reached 35 at one point, but was later reduced as authorities found some of the victims were counted twice. Of the wounded, 90 were still hospitalized at the end of March.
The MAE instated a crisis cell to aid Romanian citizens affected by the attacks, placing special phone numbers at their disposal.
"We remind you that MAE makes available to Romanian citizens and their relatives the following telephone contacts of the Romanian Embassy to Belgium +32 (0) 2 347 5338, +32 (0) 2 345 0040, +32 (0) 2 344 1658, calls redirected to the Contact Center and Support of Romanian Citizens Abroad (CCSCRS) and taken over by Call Center operators and mobile emergency consular section of the diplomatic mission in Brussels +32 (0) 2344 0854," reads the Ministry's website.
The reaction of the authorities comes following two explosions at the Brussels Airport and one at the Maelbeek metro station near the EU buildings yesterday morning. The Belgian government has put the country on the highest alert level following the explosions.
The public transport system, airport and museums in the city were shut down, while trains coming into the city were stopped. While train operations have been resumed and the metro network was partially opened, the airport remains closed. "As soon as we have access to the terminal building, we can assess the damage. Later today we will assess when operations can be resumed," the official airport Twitter account reads.
Natalia Martian