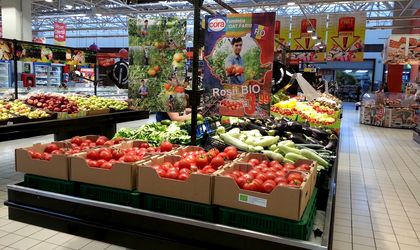 An organic farm owned by FARA Charity, a local foundation under the patronage of Prince Charles, Nicole Kidman and Princess Marina Sturdza, supplies the Cora hypermarket in Bacau, eastern Romania, with of 200 kg of organic tomatoes and 100 kg of peppers each week, the retailer has announced. The farm employs young people with disabilities who were raised in state orphanages.
The farm will supply the hypermarket during autumn and spring with tomatoes and peppers as well as other vegetables. Cora and FARA started their partnership this August.
"Up until now we used the vegetables for our own projects –to offer a hot meal to school children from very poor villages in Suceava county and for our beneficiaries. Because this was a very good year for tomatoes and peppers we started our collaboration with Cora which encourages us to extend our greenhouse to meet the demand," said Jane Nicholson, the president of FARA Foundation, adding that the target is to transform the organic farm into a social business.
Nicholson set up the foundation in 1993 to help children abandoned in Romania's state orphanages. The foundation provides care, recovery, training and integration to marginalized children and young people.
Simona Bazavan