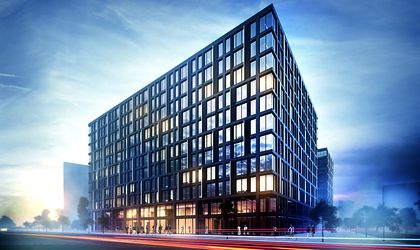 Forte Partners, a real estate consortium of private investors, announced the start of a Class A business centre project, consisting of two buildings with a gross leasable area of ​​56,380 sqm. The first phase of the project called The Bridge consists of a building whose construction will begin in the first quarter of 2016 with an investment of EUR 60 million.
The development area will be near the Basarab overpass, a promising location due to its proximity to the Polytechnic University, a main labour force generator for the IT sector and a booming motor for demand in new office space.
"The strategic position, flexibility and efficiency, ideal access for employees and customers, as well as urban area indicators allow us to develop a true Class A business park. In addition to the technical specifications meeting the highest standards of quality, prospective tenants will have a net area of ​​over 3,000 square meters per floor, with a maximum density of one person to 6.5 square meters, a unique situation in similar areas in Bucharest," says Geo Margescu, founder and CEO of Forte Partners.
"The Bridge Business Centre is designed in consideration of tenants and their employees knowing their medium and long-term needs, and in compliance with LEED Gold standards," he added.
Forte Partners shareholders are Ionut Dumitrescu (founder of Eurisko, a Romanian real estate agency sold to CBRE), Geo Margescu (whose name is linked to projects such as Europolis Logistic Park, the headquarters of Millennium Bank and Louis Blanc office building) and Jabra family (founders of Nova Brasilia business sold to Kraft Foods).
Forte Partners portfolio includes land for future projects in areas such as Stefan cel Mare, Barbu Vacarescu and Basarab overpass. The business model is focused on the acquisition of strategically positioned land for project development, their sale and reinvestment of profits in new projects. The segments covered are: office, retail and residential premium.
Natalia Martian