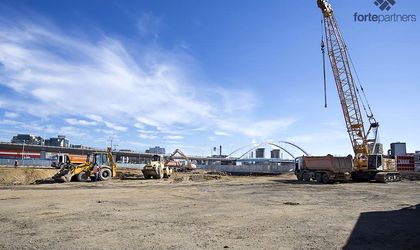 Forte Partners, a consortium of real estate investors, has begun works on the first phase of a EUR 100 million office project in the Grozavesti area of Bucharest, The Bridge, the company announced this Tuesday.
EUR 60 million will go into the project's first building which will have a gross leasable area (GLA) of over 36,000 sqm and is scheduled for delivery in September 2017. Some 30 percent of this is covered by private equity and the developer says it is in advanced negotiations to secure a bank loan for the rest of the sum.
So far Forte Partners hasn't signed any pre-lease but says it is negotiating with several potential tenants from industries such as IT or financial services and shared service centers, said Geo Margescu, the CEO and founder of Forte Partners. After the first building will reach a pre-lease of about 50 percent, the company plans to start construction of the second building which will increase the project's total GLA to over 56,000 sqm.
The Bridge is developed on a 12,700 sqm plot of land which Forte Partners bought in 2014 from Spanish developer Hercesa and which is located close to the Carrefour Orhideea commercial center. In the immediate vicinity Austrian developer CA Immo is building another office project, Orhideea Towers (37,000 sqm GLA). Asked about the competition Margescu said there is room for both projects given the high interest potential tenants have in the area due to its good connectivity to the public transport network.
Forte Partners will deliver this autumn another office project in Bucharest on the Stefan cel Mare Boulevard (8,000 sqm) and says it has enough land to develop more projects for the next four, five years.
Forte Partners shareholders include Ionut Dumitrescu (founder of Eurisko, a Romanian real estate agency sold to CBRE), Geo Margescu (whose name is linked to projects such as Europolis Logistic Park, the headquarters of Millennium Bank and the Louis Blanc office building) and Jabra family (founders of Nova Brasilia business sold to Kraft Foods).
Simona Bazavan