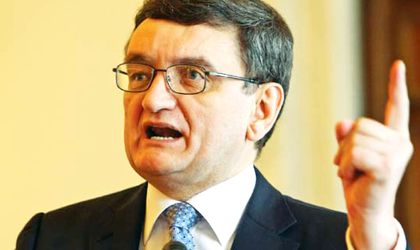 Former prime-minister Victor Ciorbea has been selected as ombudsman, after a vote from the two Chambers of Parliament. Ciorbea's appointment received 306 votes "for" and 2 votes against.
Several PSD parliamentary groups made the nomination to appoint Ciorbea as ombudsman for a 5-year mandate that can be renewed one time.
Ciorbea trained as a jurist (graduating from the University of Cluj-Napoca in 1979), and worked for the municipal tribunal in Bucharest, as well as lecturing in Law at the University of Bucharest. He was awarded a doctorate in Law by the University of Bucharest, and later specialized in management at the Case Western Reserve University in the United States (1992).
Originally a trade unionist (between 1990 and 1996, he was leader of the Federation of Free Trade Unions in Education, FSLI, and, between 1990 and 1993, leader of the nation-wide National Confederation of Free Trade Unions of Romania – Brotherhood) and member of the National Peasants' Party (PNȚCD), he was backed for the premiership by the Romanian Democratic Convention after the elections of 1996.
He resigned following a conflict with PNȚCD leader Ion Diaconescu, moving on to found the minor Alianța Natională Creștin Democrată (the National Christian Democratic Alliance, ANCD), which merged back into the PNȚCD after the latter lost the 2000 elections, and soon after became leader of the reunited party.
In 2012, as a member of National Liberal Party, he was elected an senator.