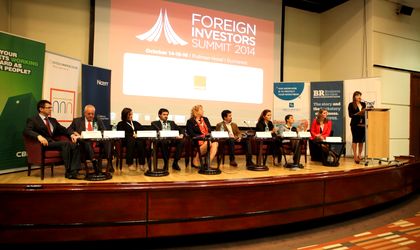 Foreign Investors Summit, Business Review's flagship event and one of the most important Romanian business forums, will be held between October 26 and 28 at Bucharest World Trade Center hotel. For three days, Bucharest will become a hub of business discussing major economic and social aspects of Romania, investment opportunities and business development in an environment inspired by some of the most famous names in economy.
Sustainability and competitiveness are in focus during the three-day event, linking all industries in a joint effort to pursue sustainable development, to provide solutions, to connect businesses, ideas and people.
Foreign Investors Summit discusses six major industry engines of the Romanian economy: IT&C, auto, infrastructure, agriculture, energy and real estate, debuting with an opening conference where representatives of the state will discuss Romania's competitiveness in the EU, the new tax code and about Romania's potential to attract new investments. Each day includes a session of general debate and panel discussions focused on topics specific to each industry.
The event is open to public and private sector representatives, decision makers in companies, entrepreneurs, representatives of embassies, foreign investors communities and all those who want to develop their business and connect to an audience of top business. The first edition of the Foreign Investors Summit has hosted over 600 participants from all sectors and fields, 14 international communities, over 50 C-level speakers, with debates on over 40 topics of interest.
Here are some of the speakers who will be present at the 2015 edition of the Foreign Investors Summit: Angela Filote, Chief of Representation of the European Commission in Romania, Elisabetta Capannelli, Country Manager, World Bank Romania and Hungary, Ionut Dumitru, Chief Economist, Raiffeisen Bank, Anamaria Mihaescu, Regional Manager, IFC, Mark Mobius, Executive Chairman, Templeton Emerging Markets Group, Eric Stab, President, Foreign Investors Council, Iulian Sorescu, Associated Partner, Head of Financial Department, Noerr Group, Dan Visoiu, Partner, BAC Romania, George Stan, Chief Investment Officer, Teamnet Group, Nicolas Maure, General Manager, Dacia Renault Romania, Iulian Matache, Minister, Ministry of Transport, Marius Nica, Minister, Ministry of European Funds, Catalin Homor, Investment and Public Procurement Manager, Metrorex, Ioana Gheorghiade, Executive Director, Public Sector and Infrastructure Funding BCR, Ricardo Gent, Chair of the National Associations Council, Europa Bio, George Stanson, Business Manager, Case IH&Steyer Balkans, Martin Zmelik, CEO, CEZ Romania Group, Daniela Lulache, CEO, Nuclearelectrica, Florin Furdui, Country Manager, Portland Trust, Adrian Erimescu, Co-founder, CEO, Imobiliare.ro, Laurentiu Lazar, Director Investment and Valuation Services, Colliers International Romania, Ovidiu Sandor, Entrepreneur.
Daily schedule will be between 8:00 and 17:15, participants having the option to choose when registering the debates they want to take part in. For more details about the structure of the summit, visit the dedicated website.
All those interested in participating in the Foreign Investors Summit can register online or contact the organizer, Business Review, at events@business-review.ro or 031 040 09 31. Early Bird discounts are offered to fast subscribers.
Staff