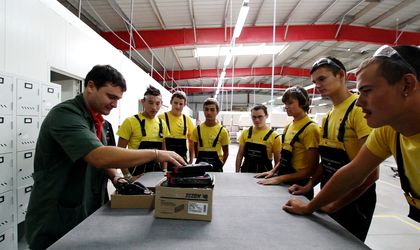 Foreign industrial players are embarking on a long-term project of preparing a new generation of technicians, working with local authorities on bridging the gap between formal education and market demands.
Representatives of Austrian, German and French investors have taken the initiative and supported the opening of professional schools in Romania, mainly in central and western Romania.
"In 2006, the industrial units started to look closely at the efficiency of their employees, as wages had started going up," said Radu Merica, president of the Romanian-German Chamber of Commerce and Industry (AHK Romania), during a meeting on technical education in Romania.
Stelian Fedorca, counselor at the Ministry of Education, said firms realized the average age of technical staff in Romania was about 50, because the country had reformed the education system in the early 90s, scrapping practical training.
The Education Ministry wants a percentage of high-school students to enroll in a two-year training program, involving significant practice in industrial plants. They say this will reduce youth unemployment and alleviate poverty. Students receive a monthly scholarship of RON 400, the payment of which is split equally between the state and the employer. 
Polipol, a German furniture maker, is currently training 12 high-school students at its plant in north-western Romania in a dual system.
"Germany got through the crisis without any major issues because there are small and medium-sized enterprises that hire people through the dual education system," said Lorin Arz, counselor to the general manager at Polipol Satu Mare.
Dan Brumboiu, general manager of the firm, says it plans to increase the headcount to 1,000 people in the next two years, adding that the current trainees will be offered full employment opportunities at completion of their traineeships.
A handful of companies including car parts maker Continental and wood-based panel producer Kronospan support the Kronostadt German Technical School in Brasov, which can train up to 250 students. According to Fedorca, around 12,500 are currently enrolled in technical high schools, out of a total of 20,000 places.  
Ovidiu Posirca