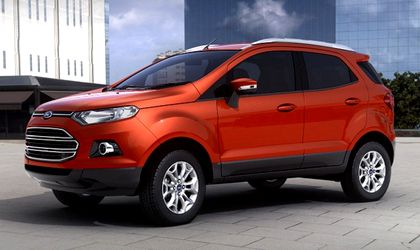 Ford Motor is planning to move the production of its EcoSport small SUV from India to its plant in Craiova next fall, following a EUR 200 million investment, according to automarket.ro.
The plant in India will continue to make EcoSport cars for the local market and for exports, but a majority of the SUVs in Europe will now be built in Romania. The announcement came from Ford Europe's CEO, Jim Farley, during an event taking place at the Craiova plant.
"EcoSport sales are up nearly 30 percent this year and given the continued outlook for sales growth in the small SUV segment, it's the right time to move EcoSport production to Europe and take advantage of the excellent workforce and operations we have in Craiova," the Ford representative said.
The automaker expects to sell more than 200,000 SUVs in Europe for the first time this year, which would represent a growth of more than 30 percent compared with last year. EcoSport will be competing with Renault Captur, Nissan Juke, Opel Mokka or Peugeot 2008 on this segment, but Ford expects it will grow to about 1.5 million vehicles a year by 2017, which would be an increase of 35 percent compared to 2015.
Ford took over the Craiova facility in 2008 and currently builds the B-Max multipurpose vehicle and the 1.0-liter EcoBoost engine. Following an investment of some EUR 200 million into the preparation of the plant's production line, the small SUV is expected to start production in Romania during the fall of 2017.
Natalia Martian