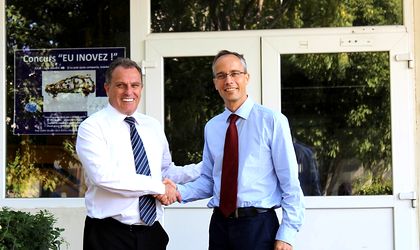 Ford Romania announced a series of changes in the company's management, both for the National Sales Company, based in Bucharest and the Craiova plant.
Starting August 2015, Jaime Ortiz-Canavate, currently production manager, automotive operations at Ford Motor in Valencia (Spain) was appointed manager of the engines plant in Craiova, replacing John Oldham.
After two years of managing the engine plant in Craiova and with an experience of over 35 years at Ford Great Britain and Ford Europe, John Oldham will take the position of assistant operations manager – vehicles operations Craiova.
Jaime Ortiz-Canavate joined Ford in 1999 and has held several positions in product development and the division of engine production and automotive production operations in Ford Spain, Ford Great Britain and Ford Germany.
Both Oldham and Ortiz will continue to work under the direction of Jan Gijsen, president of Ford Romania and also head of the Craiova plant.
Ford also announced that starting August of this year, Cristian Prichea is named sales manager of the National Sales Company, replacing Rafal Krajewski, who led Ford sales in Romania for the last 2 years. Krajewski was part of the team since its inception in 2010 and for more than three years he worked as manager of Ford Romania's client services division.
He will join the Ford division in Africa and the Middle East in his new role as manager of customer service retail division.
Cristian Prichea joined Ford in 2010 as product manager and two years later he was appointed marketing manager, leading the department until August this year.
Ford Motor Company, a global automotive company based in Dearborn, Michigan, manufactures and distributes automobiles across six continents. With about 164,000 employees and some 70 plants worldwide, the company's automotive brands include Ford and Lincoln. The company provides financial services through Ford Motor Credit Company.
Ford Europe is responsible for the manufacture, sale and service of Ford vehicles in 51 individual markets and employs approximately 66,000 employees. In addition to Ford Motor Credit Company, Ford Europe operations include Ford Customer Service Division and 22 manufacturing facilities, including joint ventures. The first Ford cars were shipped to Europe in 1903 – the same year Ford Motor Company was founded. European production started in 1911.
Ford Romania posted a turnover of over RON 4 billion and a net profit of RON 25.3 million in 2014 year-end. It employed over 3,100 people and had fixed assets worth a total of EUR 2.9 billion.
Natalia Martian