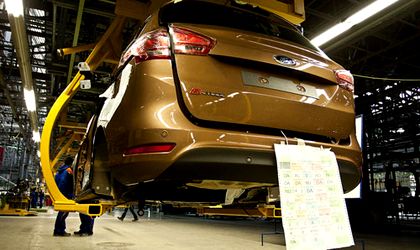 American car maker Ford received a supplementary order of 900 B-Max auto vehicles which will be produced at its factory in Craiova. Given this order, Ford decided to remove three days from the scheduled time-off that was announced for Romanian workers in the near feature.
Ford announced in early April that it will temporarily stop production on the B-Max assembly line for six working days in the month of April, eight days in May and nine days in June, as a result of lower demand in Europe
"As a result of receiving an order of 900 B-max vehicles, Ford Romania will eliminate three days without production for the near future. The demand comes from our clients on the main markets where Ford promotes B-Max. The company will continue to adapt its production volumes at Craiova to adapt to market demand", according to Ana-Maria Timis, Ford Romania spokesperson.
B-Max production was temporarily halted in February and March in Romania. Previously, Ford began introducing "breaks" in the production schedule in the summer of 2013. B-Max sales on the European market dropped 11.5 percent in the first three months of the year to 16,800 units according to Ford data.
The main markets for B-Max are United Kingdon, Germany, France, Spain and Italy.