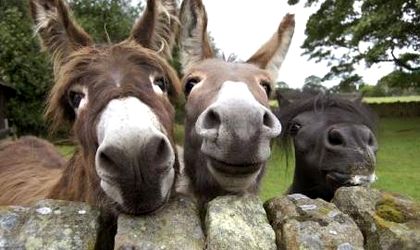 The first shelter for abandoned animals in Romania built at European standards will be inaugurated on October 4 in Cernavoda, having the capacity to host 350 dogs as well as 70 horses and donkeys.
The facility called Footprints of Joy will also host educational programs, children therapy programs using animals and welcomes volunteers who wish to contribute.
Presently, the shelter spans on a surface of 5 hectares, comprising both indoor and outdoor paddocks for rescue animals.
Soon to be opened is a new facility for cats and a modern veterinarian clinic that will also work as a good practices center for young vets.
The project, which is the initiative of the Italian association Save the Dogs started to take shape more than 3 years ago. Most of the funds come from private donors and foreign associations such as Donkey Sanctuary English association, Hundhjalpen Swedish association and the Friend of Homeless Dogs Finnish association.
"Apart from fulfilling its main function, Footprints of Joy has a very high symbolic value. Our center is less than 60 kilometers away from Constanta where at the local shelter over 6,000 dogs are killed annually," according to Sara Turetta, president of Save the Dogs.
The Italian association also manages a facility in Medgidia for spaying strays.
 Otilia Haraga