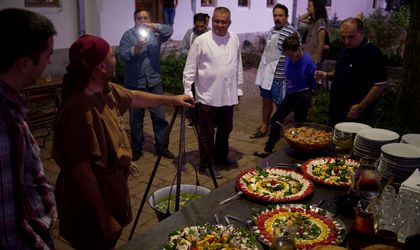 The Divan film and culinary art festival brought the spirit of the Balkans to an old Danube grain-shipping port, with movies, documentaries, debates and workshops.
By Oana Vasiliu
For five years now, the event has taken place at Cetate Harbour, Dolj County, and is well known for bringing together writers, artists and filmmakers to find creative solitude on the Danube shores. "Cetate Harbour can accommodate almost 50 people in 18 en suite rooms, three apartments with two separate rooms and nine rooms in the central mansion with shared bathroom, for prices starting from RON 160," Masa Dinescu, administrator of Mircea Dinescu Poetry Foundation and wife of Romanian  poet and co-organizer of the event, Mircea Dinescu, tells BR.
The most eagerly awaited moment of the festival was the appearance of Lucian Pintilie, who came to mark the 20th anniversary of his movie Un été inoubliable (An Unforgettable Summer). The Romanian director attended the event with Marie-France Ionesco, the daughter of Eugen Ionesco. She read some lines from Pintilie's autobiographical book titled Bricabrac.
A culinary cruise
Foodies who have enjoyed the sensorial gastronomic experience at Lacrimi si Sfinti restaurant in Bucharest knew what to expect from the feast prepared for the guests at Divan. From local cheese specialties from the Danubian meadows, local vegetables, Danube fish, pork and veal to fruit pies and plum dumplings, the local flavors were put together by Mircea Dinescu, who managed to recast centuries-old Romanian recipes in a new chapter in the evolution of national gastronomy.
Five years ago, the Dinescu family, who own a vineyard of almost 100 ha in Dolj county, started to invest in wine production. The grapes come from the winery supplying Cetate and Galicia Mare, two young vines of 50 ha each. "We have both local varieties such as Romanian Tamaioasa, Feteasca White and Black Feteasca, and fine European ones such as Chardonnay, Italian Riesling, Sauvignon Blanc, Pinot Gris, Muscat Ottonel, Pinot Noir, Merlot and Cabernet Sauvignon. Our plantation in Galicea Mare also includes a parcel of Shiraz and has about 3 ha of old vines (planted in 1950), with hubs and Fetească Tămâioasă Romanian Black," says Masa Dinescu. Currently, the family's wine can be tasted at Cetate Harbour and Lacrimi si Sfinti, and is on sale in a small wine shop in Craiova. "Probably at the end of September we will open another wine shop, this time in Bucharest, in the Old City Center," she added.