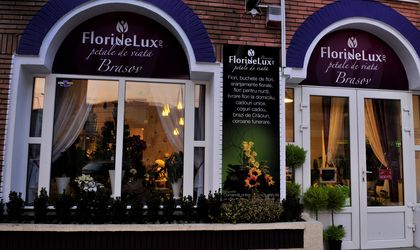 Online flower shop FlorideLux.ro opened its first offline franchise in Brasov, with an investment that will reach EUR 45,000 by the end of the year.
So far, the company has invested EUR 30,000 into the design and products of the store. The representatives of the flower shop estimate the investment will be recovered in the second year of activity.
"We have chosen Brasov to open the first offline franchise because it is a developed city with a low unemployment rate and a high average revenue per user, and the development of the tourism and the clients we already have in the area give us the confidence it is a region with a very high potential," said Marius Dosinescu, CEO and founder of FlorideLux.
The demands for franchises in Brasov outnumbered those in other counties. Brasov proved a high appetite for investments in creative industries, and automatically, a high potential for the development of the market, according to the press release from the company.
The partners who own the first offline FlorideLux franchise are Adriana Zeck and Andreea Plaiasu, two friends who decided to start a business together.
The company plans to open 50 franchises by the end of 2015. The cities where FloriDeLux aims to open franchises next are developing cities such as Sibiu and Cluj-Napoca , where there are already booking contracts signed.
"We estimate that the franchise in Brasov will contribute by approximately 3 percent to the turnover of the group that we are aiming next year. I must mention the franchisee is not compelled to acquire all the merchanise through us, so that, this flexibility brings us a lower percentage in the total business, but when we reach at least 10 franchises, we can notice a higher contribution to the turnover," said Dosinescu.
Otilia Haraga