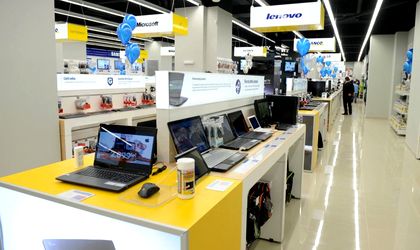 Romanian electronics retailer Flanco Retail registered sales of RON 480 million in January-September 2014, up 10 percent on the year.
"Our stake in 2014 was to deliver a greater volume of sales in healthy conditions: profitability and operational efficiency. On a price-sensitive market promotions and discount can lead to a short-term increase in market share but they also lead to a long-term consumer behavior which damages healthy development", said Dragos Sirbu, executive director Flanco.
According to the company, market data indicates that consumer confidence is bouncing back, given better job prospects and exchange rate stability.
Flanco recorded a 25 percent increase in installment sales, which indicates that the rise in consumer credits is also partly responsible for the market's improving performance.
The main engines for growth in Flanco's case were the telecom segment, up 80 percent year on year, large appliances and electronic products (specifically large televisions, where the company recorded an increase of over 35 percent).
Outside of store sales, online sales are also on an upward trend: in the first 9 months of 2014, web traffic doubled and online sales increased 90 percent.
"For the final quarter of 2014, we estimate an accelerated increase in sales, mainly on seasonality and traditional events. We are ready to surpass our last year's Black Friday performance with a campaign scheduled from November 21-23" Sirbu added.