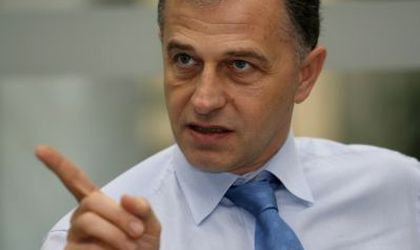 "Romanians are even more tired, frustrated and angry than many other Europeans," writes former Romanian presidential candidate, president of the senate and foreign minister Mircea Geoana in an article entitled Bringing Romania Back From the Brink, which is featured in the Opinion page of the New York Times.
The piece looks at the political battle going on in Romania from the point of view of the Romanian population, also setting it against the context of Romania's belonging to a challenged European Union, says that "five years after Romanians acceded to the European Union, their hopes have been shattered, the promises made to them have been repeatedly broken, and their quest for dignity at home and in Europe has been denied."
About the decision of the Constitutional Court to postpone making a decision on the referendum until September 12, the article says that it throws the country "into a prolonged period of political uncertainty."
"The partisan divide, which reached its pinnacle in Sunday's referendum, has been managed clumsily by all sides. The majority in Parliament, an alliance of the Social Democratic Party and the National Liberal Party, were angered by Mr. Basescu's interference in the legislative process and went on a blitzkrieg, changing laws and institutions and replacing the leaders of both chambers of Parliament. With Parliamentary elections only a few months away, the escalating drama called into question the country's democratic, economic and political stability," says Geoana.
The article also talks about the greatly challenged justice system in Romania, which has been systematically used by political forces "as a battleground and tool of influence."
Parts of the news media and nongovernmental organizations have been made economically vulnerable and increasingly partisan, says the piece, which concludes that "it is now up to all of the country's politicians to come up with a new plan to answer the slap Romania's citizens delivered to them in Sunday's referendum."
Otilia Haraga