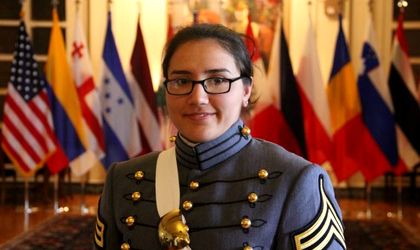 Romanian Larisa Mihaela Tudor is the first graduate of the U.S. Military Academy West Point, one of the most prestigious military higher educational institutions of the world, according to the Ministry of National Defense.
The graduation took place in May this year, where U.S. Secretary of Defense, Chuck Hagel, was the speaker for the U.S. Military Academy's Class of 2013. Approximately 1,000 cadets have received Bachelor of Science degrees and they will be commissioned as second lieutenants.
About the West Point Academy
Cadets learn basic military skills, including leadership, through a demanding Military Program which begins on their first day at West Point . Most military training takes place during the summer, with new cadets undergoing Cadet Basic Training the first year, followed by Cadet Field Training at nearby Camp Buckner the second year. Cadets spend their third and fourth summers serving in active Army units around the world; attending advanced training courses such as airborne, air assault or northern warfare; or training the first and second year cadets as members of the leadership cadre. Military training is combined with military science instruction to provide a solid military foundation for officership.
Moral-ethical development occurs throughout the formal programs as well as a host of activities and experiences available at the Military Academy . These include formal instruction in the important values of the military profession, voluntary religious programs, interaction with staff and faculty role models, and a vigorous guest speaker program. The foundation of the ethical code at West Point is found in the Academy's motto, "Duty, Honor, Country." Cadets also develop ethically by adhering to the Cadet Honor Code, which states "A cadet will not lie, cheat, steal, or tolerate those who do."
Admission is open to all young men and women, and is extremely competitive. Candidates must receive a nomination from a member of Congress or from the Department of the Army. They are then evaluated on their academic, physical and leadership potential. Those candidates who are fully qualified receive appointments to the Academy.
Photo courtesy of Ministry of National Defense Facebook page
Oana Vasiliu