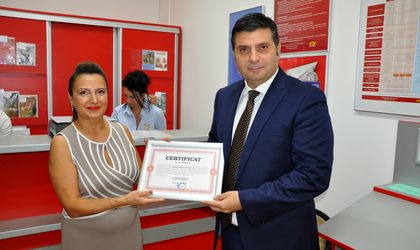 The first franchise of the Romanian Post was opened by Domino Plaza, the national postal services operator announced in a press release. The estimated investment made by Domino Servicii Diverse into the franchise was approximately RON 40,000 (EUR 9,000).
The franchise is located in Bucharest, in Tei neighborhood, in Bucharest district 2, on 61 Maica Domnului St.
The unit, which offers all the products and services of the Romanian Post with the exception of pension delivery, will employ 3 people, and has program with the public Monday to Saturday, between 9 a.m. and 9 p.m., and Sunday between 9 am and 5.30 pm.
"With this partnership, the Romanian Post as franchisor, will optimize its portfolio of products and services, but also the operational costs, reported to their added value," said Alexandru Petrescu, general manager of the Romanian Post.
The contract signed by the Romanian Post stipulates that the franchise was equipped by the beneficiary with all the necessary equipment, including the security system.
The franchisee will report its revenues to the Romanian Post, of which it will keep a sum made up of the fixed commissions applied per each service or product it delivers. Supplementary to this final sum, the Romanian Post will also cash in a 2 percent royalty.
  "We are considering expanding this partnership to other cities in the country, where, the same as in Bucharest, we will work with the tariffs of the Romanian Post and no commission for the client," said Anca Cîmpeanu, director of the Domino Plaza compound.
The estimated annual revenues of the Partener Domino franchise are approximately RON 1 million (EUR 226,200). The estimated profit that the Romanian Post will obtain is RON 78,000 (EUR 17,640). The annual estimated revenues of Domino Servicii Diverse are over RON 150,000 (EUR 34,000).
The Romanian Post intends to implement the franchise system into its entire network, as part of the 2013-2016 management plan.
The national postal operator has countrywide coverage via a network of over 5,600 postal offices. The institution ended 2013 with losses of RON 27.6 million.
Otilia Haraga