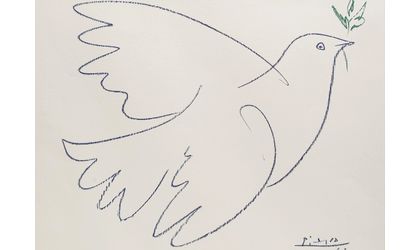 The first Pablo Picasso art auction to be held in Romania will be organized on Thursday, December 10, at 20:00 by Lavacow, the online division of Artmark, company representatives announce.
With 15 lots, the auction highlights important sequences of the artist's career and personal life, including "Paloma et Claude" and "Colombe Bleue".
Picasso was always fascinated by pigeons, they reminded him of his childhood in Malaga. Upon his entry in the Communist Party he was asked to create works that symbolize peace and freedom, for which he chose the pigeon as main theme. The paintings were displayed in an exhibition at the first International Conference for Peace in 1949. In this regard, Lavacow presents "Colombe Bleue", "Deux Femmes et la Colombe", "Colombe de l'avenir". It is said that Picasso was originally inspired by one of Henri Matisse's birds.
"Femmes du Monde Entier", "Jacqueline", "Jacqueline at the easel", "Paloma et Claude" of the auction present a peek into the private life of the artist. His children, Claude and Paloma, were repeatedly preferred subjects of the artist, the famous work depicting the two came to be sold for USD 28 million at Christie's New York in 2013. About Jacqueline was said to have been the greatest love of Picasso, the artist dedicating to her no less than 400 portraits in 11 years of marriage. The record for a work that depicts Jacqueline was established in May 2015 at Christie's for USD 179 million, while becoming a world record for a contemporary opera.
The Lavacow auction takes place online on Thursday, December 10, at 20:00, the selection being available for browsing on lavacow.com.
Natalia Martian