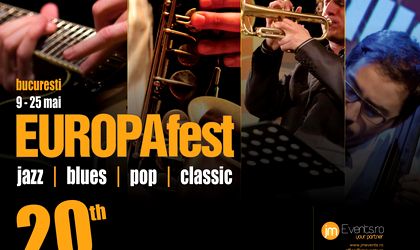 The seventh Bucharest International Jazz Competition, held under the EUROPAfest banner, got underway late last week, with six top international musical acts treading the boards at the Odeon Theatre studio over the weekend.
It was standing room only on Saturday, as local jazz fans turned out in force to see three varied international acts. Spanish-German combo ANy Jazz, featuring Federico Nathan on violin and Pablo Arencibia on piano, got proceedings underway, opening their set with their take on the Radiohead anthem Creep. Hard on their heels was the US-based Dan Cavanagh Dallas Trio, with the eponymous pianist joined by Brian Mulholland on bass and Jaime Reyes on percussion, who kicked off a lively performance with some Thelonious Monk. The night's festivities were concluded by Chocolate Disaster, whose all-female line-up (Leonore Hollauf on double bass, drummer Lada Obradovic, Anna Doblhofer on piano and Anna Keller on saxophone) hails from Austria, Germany and Croatia.
On Sunday another three acts took to the Odeon Theatre studio stage. First up were Italian-British duo Quei Due, formed of Adam Taylor on guitar and singer Caterina Comeglio, who made full use of their looper pedals to build a layered performance that belied their number. Next up were Austrians HI 5 (guitarist Philipp Ossanna, Clemens Rofner on bass, Matthias Legner on vibraphone and Christian Norz on percussion). They were followed by the Federico Nathan Quintet, whose members hail from Spain, Uruguay and Italy, featuring a familiar face from the night before, joined this time by Maximiliano Nathan on vibraphone, Andres Pigatto on double bass and bass, pianist Joaquin Baranzano and Felipe Badaro on percussion.
Last year's festival closed with a gala concert that featured the competition finalists jamming en masse. This popular feature has been rolled out this year, with the acts ending the evening by pooling their musical efforts to give improvised renditions of the mandatory competition piece, which is Dave Grusin's Mountain Dance. Several acts have clearly done their homework: there have been musical allusions to Sonny Rollins' St Thomas, the mandatory piece at last year's event, pleasing loyal EUROPAfest fans.
On Monday the action moved to ArCuB, where virtuoso local pianist Alex Catanga Padureanu was followed onto the stage by German group Kelzoo (guitarist Claas Krause, Samuel Dick on percussion, Moritz Stahl on saxophone, pianist Christopher Verworner and Lorenz Heigenhuber on double bass). The Bucharest International Jazz Competition continues on Tuesday at ArCuB.
Meanwhile, the other EUROPAfest strands, including the Caffe Festival concerts, workshops and jam sessions, are also ongoing. For more details visit www.facebook.com/EUROPAfest.Bucharest or http://www.jmevents.ro/.
Debbie Stowe