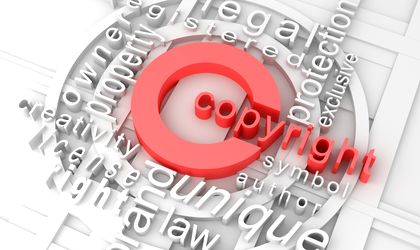 Coming up with new products and services is one of the best ways to retain and gain customers. But once you have your idea, innovative product or manufacturing procedure, how do you protect it from your rivals? Business Review talked to intellectual property specialists to find out.
Anda Sebesi 
"Capital isn't that important in business. Experience isn't that important. You can get both these things. It is ideas that are important. If you have ideas, you have the main asset you need, and there isn't any limit to what you can do with your business and your life," goes a famous quote by Harvey Firestone, the American businessman who founded Firestone Tire and Rubber Company, one of the top global makers of automobile tires.
And many agree: innovation is the most precious thing any company in the world has at present. As the competition gets fiercer from one year to another, both entrepreneurs and managers need to protect their intellectual property at all costs, as great ideas are always an attraction for both direct and indirect competition.
One of the most significant examples of ongoing innovation is Apple, which posted quarterly revenue of USD 39.2 billion and quarterly net profit of USD 11.6 billion, according to its financial results for its fiscal year 2012 second quarter ended March 31.
Its founder, Steve Jobs, who died in October last year, is known as the inventor of 212 different Apple patents in the US until the beginning of 2011. Apple has patents even for the minutiae of its business, like the iPod Nano box or iPhone package.
The pharmaceutical industry is another field where patents are very important, as drug companies make huge investments in research and development activities.
For example, Bayer, a global enterprise with core competencies in the fields of healthcare, nutrition and high-tech materials, currently has 78,000 valid patent applications and patents worldwide, 12,000 protected inventions, 6,500 patent applications a year and 750 new inventions a year.
Some 40 percent of sales are based on proprietary products or processes and a patent has a life of 20 years. Plus, it takes an average of 12 years to develop a new drug.
But what does intellectual property mean? It relates to creations like inventions, literary and artistic works, symbols, names and images used in trading activities, and includes two different concepts: industrial property and copyright.
Industrial property means inventions, trademarks, geographical indications and industrial designs and models while copyright covers literary and artistic works.
Intellectual property rights have a huge importance to companies as they safeguard their efforts and creativity.
For Dan Boabes, CEO at Simplus, a Romanian company specialized in SMS services and applications of interactivity through SMS, intellectual property is one of the most important issues for his business.
"We all know that the Romanian IT/interactivity through SMS market is subordinated to 'copy-paste' rule. Why innovate when you can steal or copy?
This kind of 'inspiration' is choking a market that could really develop very nicely if competitors played fair," says Boabes. He adds that intellectual theft in his field of activity can't be stopped just by the steps taken by serious companies that protect their creations at the State Office for Inventions and Trademarks (OSIM).
"I think that it is important also to protect the mechanisms behind these IT solutions, and here it is about patents. Simplus intends to use patents in order to better defend its ideas from the theft it faces," adds the CEO. Since 2004 Boabes has started to register different services (Kuplometru) and also the name of his companies (ParlaTel, Simplus).
 Where is Romania on intellectual property…?
At present the national legislation on intellectual property is in line with European law, so experts say that all the fields of intellectual property are covered satisfactorily from the legal perspective.
The OUG no. 100 / 2005 represents the transposition into the local legislation of the Directive of the Council and European Parliament 2004/48/CE.
This act regulates the measures that can be taken in order to ensure intellectual property rights are respected. There are also other norms, like Law no. 84/1998 (about trademarks, geographical indications), Law no. 69/1991 (about patents) and Law no. 8/1996 (about copyright and connective rights).
The OSIM, ORDA, IEPR and ANV are among the institutions tasked with applying these laws.
"The experience of both public authorities and other players that are active on this market has increased progressively along with the volume of activity. The activity of courts with files specific to this field and the experience of judges (some of them specialized in intellectual property) have also increased significantly in the last few years," says Ana-Maria Baciu, partner and coordinator of the intellectual property division at NNDKP.
The same trend of the specialization of professionals on the local market has been noticed by Cosmin Vasile, partner at Zamfirescu Racoti-Predoiu (ZRP).
"This specialization is welcomed in the context of an increased amount of intellectual property litigation. This evolution is caused by the current economic crisis, whose effects can be felt in all the sub-divisions of intellectual property rights – copyright, patents and trademarks," says Vasile.
Intellectual property rights are linked with the idea of economic, technical and cultural progress and the evolution of a modern society, whether we're talking about new technological inventions or simply the promotion of new products and services.
"The protection of ideas and their originality and commercial name means ensuring legal competitiveness between the players on a market. Recent years have certainly brought increasing concern with the formal protection of intelligence and innovation, and there has been a significant flow of requests for protection addressed to OSIM or law suits that center on the protection of different intellectual property rights," says Cristian Popescu, collaborator lawyer specialized in intellectual property and copyright at Popovici Nitu & Associates and adviser in intellectual property issues at OSIM.
…and what problems do companies face?
Boabes says that since Romania's accession to the European Union it has become more and more difficult to register trademarks because this is done in connection with all Euro zone countries.
Specialists say that there is a huge battle between Romanian companies and large international law firms that represent their customers worldwide.
These firms are very careful and don't allow anyone to register a trademark of their customers even if they are not present on the local market.
According to Baciu of NNDKP, the most visible problems that both local and multinational companies are now facing from the intellectual property perspective is still the infringement of trademarks.
There are two reasons for this: this kind of intellectual property rights are probably present in most companies' portfolios and breaking them is easiest and thus more frequent.
"But this doesn't exclude problems for the patentees of other intellectual property rights – inventions, designs, models and copyright," say Baciu.
According to Vasile of ZRP, the most frequent problem is counterfeiting, both of patents and trademarks.
"For example, in the pharmaceutical industry there is a battle between manufacturers of innovative drugs that hold patents and those of generics that aim to invalidate the patents in order to be able to access the market. The import of counterfeit commodities is another example. It has increased significantly of late as a result of the international economic situation," says Vasile. He adds that the failure to pay royalties is another cause of litigation that has increased significantly.
Elsewhere, the Popovici Nitu & Associates representative says that both Romanian and multinational companies face a few types of problems: the fight against counterfeiting/piracy, illegal use of commercial names and the delayed reaction and sometimes even ignorance over protecting intellectual property rights.
"Unfortunately and increasingly a company becomes aware of the protection of its intellectual property when it suffers directly through a decrease in its turnover. This is because it faces unfair competition from much lower quality products that are fraudulent giving their customers the idea that they have a connection with the original products," says Popescu.
Meanwhile, Andrei Brasoveanu, managing partner and co-founder at Ciurtin, Brasoveanu and Associates, says that the number of infringements of intellectual property rights has increased alarmingly in the field of importing and marketing industrial models that don't have the approval of the rights-holders and counterfeiting products, using documents at customs that don't indicate the origin of the trademark.
"Another type of litigation is using the names of domains from the virtual informatics space, in general for cases when someone different from the holder of the trademark registers and eventually uses a domain with the same name in the Romanian Register of Domains (RMC)," says Brasoveanu.
What can companies do?
Specialists say that the careful monitoring of the potential infringement of intellectual property rights and following the procedures to register them are the best way to protect intellectual property capital.
Vasile of ZRP argues that in order to prevent such situations, companies whose intellectual property rights are at risk need to use a specialized law firm or industrial property advisers in order to monitor the publications and official registers and see if there is any risk of third parties contravening their rights.
"Where such infringements have occurred we recommend companies retain specialized law firms because of the high degree of technicality of this issue," says the representative of ZRP.
According to Popescu of Popovici Nitu & Associates, protecting intellectual property involves two steps: preventive protection by registering patents, trademarks and industrial designs in the geographical area where a specific company operates, and offensive protection before organizations like OSIM, OHIM, WIPO, or in court to challenge patents and trademarks, and block the illegal production/commercialization/use of some logos or products bearing them.
For example, a start-up first needs to register its own internet domain and that needs to be backed up by the registration of as distinctive as possible a name that reflects, at least in part, the web address.
"If the company is going to produce things it is compulsory to register the rights to the patent or industrial designs for the products and technical methods of production," says Popescu.
He adds: "Similarly, when a company notices that its products and services are suffering unfair competition (by counterfeiting or false advertising) it needs to react immediately through notifications sent to the unfair competitor. If the illegal actions don't stop the next potential step is to sue and complain to the authorities."
Elsewhere, Boabes warns that if the market on which he operates was a fair one, registering a trademark wouldn't be necessary.
"In such a context where you launch a product, invest in its promotion, make it profitable and then you see it copied with only minor differences from the original a short time after doing it, it is very important to protect it. We know it is a worldwide phenomenon but we are very vigilant and we severely penalize any attack against the integrity of products and services created in the laboratories of Simplus."
He adds that the examples given by artists, writers and inventors who took a stand against intellectual theft should make Romanians respect their work and protect it.
Intellectual property market is growing
A specific trend on the local market is that many law firms have decided to focus more on legal services for intellectual property, with several of them having had these services in their portfolio since entering on the local market.
­For example, the intellectual property division of NNDKP was created back in 2003 when the need for specialization from some lawyers in this field of activity was obvious.
"Since then, our team has constantly grown, both in terms of members and volume of activity and experience," says Baciu. She adds that specific intellectual property services made up about 7 percent of the total turnover registered by NNDKP in 2011.
Meanwhile, the intellectual property department of Popovici Nitu & Associates was founded more than ten years ago, but as a result of the significant increase in demand and projects in the past two-three years it is in the process of expanding and consolidation.
According to Popescu, 2 percent of the total turnover posted by the law firm comes from specific services for intellectual property.
Elsewhere ZRP is one of the most important players on the Romanian intellectual property market and offers judicial assistance and representation in intellectual property litigation and a wide range of legal services to protect intellectual property.
"Intellectual property makes up a significant weight in our income and is directly proportional to the success of our customers in protecting these rights. The percentage of the income in our area of business both from consultancy and litigation is in double digits," says Brasoveanu.
Ciurtin, Brasoveanu and Associates has developed and consolidated its practice in intellectual property rights since 2003.
The company has honed its methods in this regard by successfully developing registration and patenting procedures for the benefit of its customers and has drawn up protective contracts to safeguard its clients' business.
anda.sebesi@business-review.ro
The benefits of protecting your intellectual property
You prevent unfair competition;
You protect your work and investment;
You behave responsibly in regard to your employees and their work for your company;
You have a strong argument against those who accuse you of being unfair;
The judicial protection of new creations encourages investment and generates new innovations;
Promotion and protection of intellectual property foster economic growth and create new jobs and activities;
Consumers couldn't buy your product and services with trust if your trademark were not sufficiently protected;
A short guide to intellectual property
Patent = confers the exclusive right to an invention –  a product or procedure – that offers a new way of doing something or bringing a new technical solution to a problem. It guarantees the holder the protection of his or her invention for up to 20 years
Trademark = a distinctive sign that indicates that products or services are produced or supplied by a specific individual or company
Design or industrial model = represents the aesthetic or ornamental appearance of an object. According to the majority of national legislation, a design or industrial model needs to be new or original and not to have a technical function in order to secure protection
Geographical indication = sign used on products that have a precise geographical origin and that have some qualities or renown resulting from the origin
Copyright = a group of laws that give protection to authors, artists and other creators for their literary and artistic works, generally named "creations"
Source: State Office for Inventions and Trademarks (OSIM)