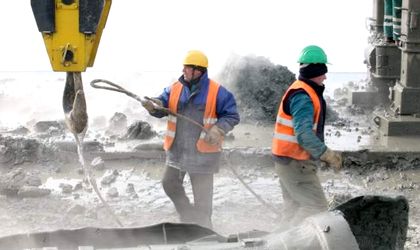 The absence of safety precautions for workers exposed to extreme temperatures could lead to fines of up to RON 2,500, according to the Romanian Labour Inspection service (IM), cited by Mediafax newswire.
In case employers do not comply with the provisions of the 99/2000 Emergency Ordinance regarding "measures that are to be applied during times of extreme temperatures to protect workers, the sanctions applied can be with fines between RON 1,500 to 2,500 or even the interruption of the company's activities until the situation is remedied", says Dantes Nicolae Bratu, general state inspector with the IM, according to Mediafax.
IM warns employers that "they are legally obliged to distribute hot tea to workers exposed to extreme temperatures" of below -20 degrees Celsius and when there are wind conditions. Furthermore, employers must also allow for breaks in "fixed or mobile spaces with appropriate microclimate and to ensure individual protective gear" for employees.
If companies are unable to meet the above-mentioned conditions, "in agreement with union or employee representatives, they will lower the work hours accordingly or interrupt work". This will not affect the employees' work status, as "throughout the collective interruption of work, individual work contracts will be maintained, and the interruption period is counted towards seniority", explains IM.
According to the National Meteorology Administration, Romania is facing a week of frost and temperatures are expected to go as low as -28 degrees in some areas.
Andreea Tint