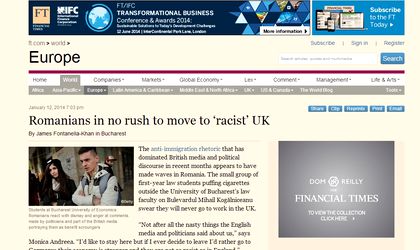 "Romanians in no rush to move to 'racist' UK" is the article that journalist James Fontanella-Khan wrote today for the business publication Financial Times. According to him, estimating how many Romanians – as well as Bulgarians, who are now also allowed to work in Britain – will move to the UK is virtually impossible. But talk fanned by Nigel Farage, leader of the anti-immigration UK Independence party, that more than a million would reach British shores are overblown, according to recruitment agencies, sociologists and Romanian government officials.
Moreover, Financial Times argues that when Romania joined the EU in 2007, a record 558,074 Romanians left the country while only 100,268 returned home. But since then emigration flows have declined. In 2012, the overall number of Romanians emigrating fell to 170,186, the lowest in nearly a decade, while a record 167,266 decided to make their way back to the motherland.
The entire article can be read here.
Oana Vasiliu