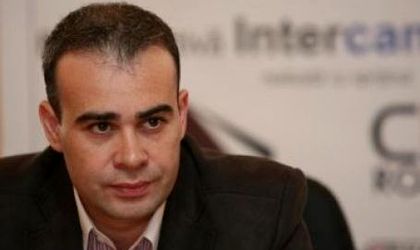 Darius Valcov resigned on Sunday from the position of minister of Finance, according to Mediafax.
"The prime minister will postpone the appointment of a new minister for a few days, pending the completion of the new Tax Code draft," official sources told Mediafax.
According to Agerpres, the information was confirmed by PM Ponta who told B1 TV private broadcaster on Sunday that he accepted the resignation of Darius Valcov from Finance Minister office, but asked him to complete the new Tax Code, and that he also informed President Klaus Iohannis about that.
Ponta said Valcov tendered his resignation on Sunday at noon before a press release of President Iohannis on the same matter, while after the release was issued he phoned Iohannis to inform about the Finance minister's decision. He added that the next day he will start looking for a 'kamikaze' to take over the office of the Finance Minister.
The prime minister on Saturday gave guarantees that the Tax Code draft "in which Darius Valcov had and will have a decisive role" will go further "at any cost and in any political context".
The National Anticorruption Directorate (DNA) announced on Friday night it has started the criminal prosecution of the Public Finances minister Darius Valcov for influence peddling in his capacity of mayor of the city of Slatina.
"In 2009, the administrator of a commercial company has contacted Darius Valcov, who was a mayor at that time and forwarded him a proposition that, in exchange of offering support to influencing the decision makers within the contracting authority, with a view to win some bids of public works for objectives in the Slatina municipality, the towns of Scornicesti, Piatra Olt and Draganesti, he was to give Valcov 20 percent of the sums cashed (VAT-free), according to the execution contracts of the said works," a DNA release quoted by Agerpres informs.
Minister Darius Valcov was heard on Friday evening by the DNA prosecutors after which he stated that he is innocent and denied having receiving bribes, according to Mediafax.
Valcov said on Sunday evening that he presented his resignation at the meeting he had at noon with PM Ponta mentioning that, although he is not yet a defendant, he considers his resignation a normal gesture in the current circumstances.
Staff