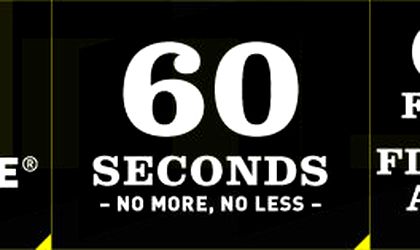 Every year, 25 one-minute films are selected by Filminute from thousands of international submissions so this ninth edition has just opened for applicants. The shortlisted films are voted on by a respected jury and a global audience of filmmakers and film fans participating from over 125 countries.
Filminute is now encouraging filmmakers worldwide to enter their one-minute masterpieces for review before the closing deadline of 20 August 2014. The festival and competition runs from September 1st to 30th.  "Filminute takes great pride each year in attracting talented filmmakers worldwide who are skilled in the art of storytelling and who are drawn to the challenge of creating entertaining, moving and provocative films that are exactly 60-seconds long," says John Ketchum, festival co-founder and executive director.
The festival is free to enter and increasingly identifies serious filmmakers aspiring to make a feature film. There is considerable discipline required to develop a film which meets the set of criteria listed on the Filminute.com website. Films are accepted from the categories of fiction, animation, documentary and mash-up.
The eighth edition of the International Filminute festival has wrapped with the international jury awarding Best Filminute honors to Dutch filmmaker David Stevens for his very original and highly engaging documentary M-22 which takes an unexpected approach to a common but relatively unexplored speech disorder. Martiniquan filmmaker Khris Burton impressed filmmakers and audiences alike with a mesmerizing script and exemplary performances in Maybe Another Time. For his efforts, Burton takes home both the People's Choice and Top Rated awards at Filminute 2013. The film's impact can be tracked in the more than 200 online comments it generated, leaving audiences "breathless", "startled", and "deeply impressed." This was Martinique's first appearance on the Filminute festival and competition shortlist.
Oana Vasiliu