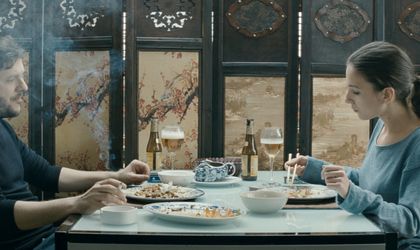 Driving. Talking. Smoking. Eating. Talking. Screwing. Talking. Smoking. Endoscopy. The end. With every scene shot in one long take, When Evening Falls shares a central plot point with a lot of Romanian New Wave output, namely that nothing much happens. (Apart from talking and smoking, that is – goodness, the blood nicotine levels on set must have been through the roof.) Of course, that's the point. While the film is ostensibly about an affair between a director and an actress, the real business of Corneliu Porumboiu is exploring ideas of cinema, with the result a piece of meta-fiction aimed squarely at cineastes and art house types.
Our protagonist is Paul (Bogdan Dumitrache), a charmless moviemaker given to sounding forth pompously about film and its importance while exhibiting little enthusiasm for the production he is actually directing. Scruffy and morose, Paul is punching well above his weight with Alina (Diana Avramut), a bit-part actress in his movie for whom Paul has decided to insert a last-minute nude scene. Not only is Alina younger and more attractive than Paul, she's also more outwardly sophisticated after a spell of studying in France, eating demurely during their date in a Chinese restaurant, while Paul chomps through his food. Two long sequences are given over to the director and actress lengthily debating and then acting out the nude scene, approaching it with ludicrous seriousness when it is essentially Alina's character getting out of the shower.
There is neat comedy in the interaction between the couple. When a friend of Paul's says Alina resembles Monica Vitti, the Italian actress, she accepts the compliment, and only sometime later, after the friend has left, asks Paul, deadpan, "Who is Monica Vitti?"
When EveningFalls lacks the swelling denouement of Porumboiu's last picture, Police, Adjective, when a similarly lingering style reached a memorable crescendo in the dictionary scene. With the film being so talky, unless your Romanian is perfect it's worth seeking out subtitles. You'll also need patience. If you want action and adventure, this uncompromising auteur's exercise is not for you. If you want cinematic soul-searing and cigarettes, metabolize away.
Director: Corneliu Porumboiu
Starring: Bogdan Dumitrache, Diana Avramut
On at: Cinema City Cotroceni, Grand Cinema Digiplex, Hollywood Multiplex, Movieplex, NCRR, Studio
debbie.stowe@business-review.ro