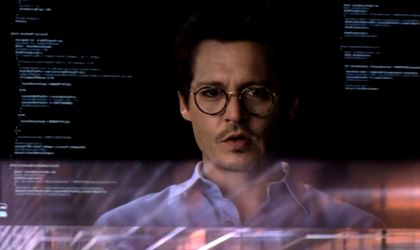 Computers – aren't they amazing? They underline your spelling mistakes, bring you pictures of cats on radiators and put you in touch with Nigerian fraudsters who want to steal your life savings. But Johnny Depp thinks they can do even more than that. He's a hot-shot scientist trying to build a sentient computer that could one day be cleverer and more capable than humans (not difficult, judging by the news most days).
However, not everyone is happy with what Johnny, or Dr. Will Caster as he is here, is up to. A series of guerilla attacks on computer labs and the boffins leading the development of this artificial intelligence leaves Will at death's door. But his devoted wife Evelyn (Rebecca), herself a scientist, has an idea: how's about they upload all of Will's memories, thoughts and physical specs and merge them with the AI, so the good doctor can live on inside the computer? Ignoring the protestations of Concerned Best Friend Max (Paul Bettany), Evelyn proceeds with the mad scheme and Johnny goes live.
Transcendence then briefly enters Her territory – the recent Spike Jonze sci-fi curio about a romance between a man and his operating system. Able to converse with Evelyn as a talking head on a screen, Will can still have candlelit meals whipped up and play sweet soul music on a phonograph, the old smoothie.
But director Wally Pfister has bigger concerns than the relationship dynamics of humans and machines. Having harnessed the power of the internet, computer-Will's mega brain capacity allows him to amass an overnight fortune on the stock market, and he and Evelyn start building a massive data center (which sounds boring but it's not) in the desert, where they are soon healing the sick and making the blind see again.
The government and guerillas are worried. Is Will going to be a force for good? Or is he an avatar with a god complex, getting ready for world domination? Are the resistance fighters ruthless technophobes with no respect for human life or progress, or are they right to use expedient tactics to stop a megalomaniac before it's too late? One of the highlights of Transcendence is that it doesn't deal in neat moral certainties: it's not always clear who you should be rooting for.
First-time director Pfister is a cinematographer by background, which is evident in the artistry of the film's visuals – from Will's desert super-base to the droplets of water and green shoots that symbolize all the sciency stuff. A frequent collaborator of Inception director Christopher Nolan, here executive producer, the latter's influence or their shared narrative philosophy is manifest in Transcendence's willingness to grapple with big ideas and make its viewers' think.
Proceedings get off to a slow start – this is not a movie for the popcorn-munching blockbuster brigade. As the plot moves into the final act, it begins to look a lot like Terminator, but Depp's hasta la vista baby is far more ambiguous.
Director: Wally Pfister
Starring: Johnny Depp, Rebecca Hall, Paul Bettany, Kate Mara, Cillian Murphy, Cole Hauser, Morgan Freeman
On at: Cinema City Cotroceni, Cinema City Sun Plaza, Grand Cinema Digiplex Băneasa, Hollywood Multiplex, Movieplex Cinema, The Light Cinema